Sharp Edges by Jayne Ann Krentz Review
by Editor
Pocket Books, Feb., 1998.
Hardcover, 320 pages.
ISBN: 0671523104.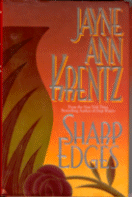 Elegant, artistic and sophisticated museum curator Eugenia Swift and beer-drinking, hamburger-eating private detective Cyrus Colfax could not be more different in tastes and styles, but they are stuck together. When a wealthy art collector dies and leaves his fabulous glass collection to Eugenia's museum, she is sent to catalogue the collection at Glass House on Frog Island, off the Seattle coast. Much to her dismay, the museum board insists that she take Cyrus with her to determine if the late, unlamented Adam Daventry fell down his stairs by accident or if he was pushed. The unlikely pair set off on their journey, each hiding a secret agenda.
Eugenia is determined to discover if this latest death is related to the drowning death of her friend Nellie Grant who was involved with the late Daventry. Cyrus is on the trail of a legendary art treasure, The Hades Cup, which was stolen right out from under his nose on a prior case which resulted in the death of his wife. Posing as a couple, the two are thrust together and begin to discover a fiery attraction for one another, in spite of their differences. As they hunt for the missing cup and clues to the identity of a murderer, they get more than they bargained for because whoever killed Daventry won't hesitate to kill again.
Whether writing as Amanda Quick, Jayne Castle or Jayne Ann Krentz, Krentz always delivers the goods. The trademark banter and repartee between her romantic leads is better than ever in Sharp Edges. The repressed Eugenia is a perfect foil for the hard-boiled, diamond in the rough Cyrus, who would be devastatingly handsome if he would just ditch those Hawaiian shirts which make Eugenia shudder each time she sees him -- and will make readers think of Tom Selleck in his Magnum, p.i days. A lighthearted adventure with just the right mix of passion and romance.
Ordering information: Amazon.com.
---
More from Writers Write
---