Shadow Wars by Clyde Farnsworth Review
Donald I Fine, Feb., 1998.
Hardcover, 432 pages.
ISBN: 1556115180.
Ordering information:
Amazon.com.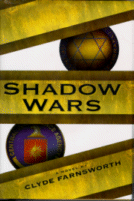 U.S. Intelligence has come upon some remarkable news about recent breakthroughs by chemists and physicists working at an Israeli facility. It appears that scientists working at the facility have discovered a way to engineer gold cheaply and that Israel is now manufacturing and selling this gold. If this is true, it could collapse the value of gold and cause an economic crisis. The U.S. wants answers and sends a renowned physicist, Hillsdale Landover, to determine if this situation is true, to get details and return with a report to the president. In Israel, Landover soon finds himself on more than just a fact finding missing and is nearly murdered his first day by a young knife-wielding boy. To get him out of harm's way Rafe Ravid, the Israeli contact, fakes his return back to the U.S. in order to sneak him into the gold making facility in Dimona. Here, Professor Landover meets Rachel, Ravid's daughter, who works in the facility and has made some discoveries of her own. Skeptical of the gold making process, Landover does not get on Rachel's good side. However, the Iraqis want the information too and Landover soon finds himself pursued by assailants who murder Rafe. Landover turns to Rachel for help and the two of them find themselves in a run for their lives from diabolic villains and their own governments.
Farnsworth's tale is full of fascinating details of the physical process of the alchemy of gold, chilling political facts which give insight into the inner-workings of the Iraqi, Israel, Russian and US Governments and secret services, historical and modern details of the Middle-East and heart-pounding suspense. A dramatic and effective entrance onto the political/thriller stage from former
New York Times
writer Clyde Farnsworth.
---
More from Writers Write
---