Secrets of Successful Web Sites Review
Secrets of Successful Web Sites
by David Siegel
Hayden Books., August, 1997.
304 pages. ISBN: 1568303823
Trade Paperback.
Ordering information:
Amazon.com.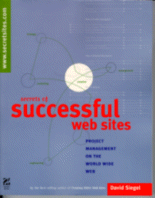 This book starts giving away web secrets in chapter one where it describes in detail the set-up, organization and selling factors that took place in launching the website for Land Rover. This first chapter details the sale of the website to Land Rover, how the site benefits Land Rover and how the site is organized. From this example and those in the chapters that follow the reader is able to gather web secrets from the pros by examples containing pictures and lengthy descriptions. Other chapters in this first section of the book provide examples in a similar fashion for the design of sites like
Salon
, Stoli, Virgin Records, Women's Wire and Porsche. Part II deals with subjects involving web design projects and contracts and the man-hours involved. From the client perspective it answers should you maintain the site or hire someone else should do it? While from the web designers it answers how do I put a proposal together and what should I charge for this project?
Secrets
is full of no-nonsense advice and examples from actual website happenings that include what worked and what didn't and why. The models of websites that flourished work both as a learning tool and as a history of effective publishing in this exciting new medium. Web designers, site owners and business executives will benefit greatly from studying this book.
---
More from Writers Write