Sanctuary by Nora Roberts Review
Jove, May 1998.
Paperback, 516 pages.
ISBN: 0515122734.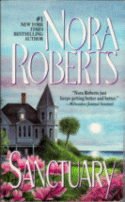 Jo Ellen Hathaway is a highly successful photographer whose work is about to be showcased in a new book from a major publisher. But on the eve of her greatest triumph, Jo Ellen is terrified -- someone has been sending her photographs of herself obviously taken by someone in close physical proximity. When a photo of Jo Ellen's mother Annabelle arrives, Jo Ellen has a breakdow -- her mother disappeared 20 years ago leaving her father and sister and brother miserable, confused and bitter, thinking that Annabelle ran off with another man. In the photo, her mother is nude and obviously dead. When she is released from the hospital, Jo Ellen returns to her family home, Sanctuary Inn, a bed and breakfast on Lost Desert Island, off the island of Savannah, Georgia. Jo Ellen meets up with a childhood friend who has also just returned to the island and joins forces with him to find out what happened that night 20 years ago when her mother left. Determined to find the truth and help heal the scars that have almost destroyed her quiet brother, seemingly shallow sister and her remote and grief-stricken father, Jo Ellen begins hunting for the truth. When another woman disappears in the same manner as Annabelle, Jo Ellen knows she must track down a murderer whose twisted motives lie in the past.
Sanctuary is a remarkable tale of how one family was irrevocably changed by an unspeakable act of violence and how the truth can start the healing of even the most vicious wounds. Jo Ellen is a complex, tortured and yet ultimately powerful heroine who will make you smile with her feisty attitude, even while your heart aches for her as she struggles to keep her hold on her sanity in the midst of some horrifying revelations from the past. The seductive, lush island provides a passionate backdrop for this tale of love, passion, heartache and madness. The talented and versatile Nora Roberts has created a spellbinding story which will entrance lovers of suspense, romance and mystery alike.
Ordering information: Amazon.com.
---
More from Writers Write