Romance Book Reviews
Page One of Two
The Gold Coin by Andrea Kane
Sonnet Books, August 1999.
Paperback, 455 pages.
ISBN: 0671018884.
Ordering information:
Amazon.com.
In 1803, Kent, England identical cousins Anastasia and Breanna Colby made a pact to protect each other by switching identities whenever the need arose. Then their beloved grandfather gave them each a coin -- one gold and one silver -- with the proviso that they were never to tell anyone about the coins, nor to give them up for any reason whatsoever. When the girls grow up, their lives are quite different. Anastasia has been raised in the U.S., and has returned to England after her parents' death. Breanna has led a sheltered life in England with her despicable and shady father. When the girls learn that Breanna's father has concocted a dreadful scheme to steal all of Anastasia's fortune, the girls resolve to act. But they will need to enlist the help of the handsome and charming Damen Lockewood, who controls Anastasia's fortune until she is of age. Will the handsome Marquess of Sheldrake cooperate with their scheme?
The Gold Coin
is the first book in a two-part series, and focuses on the romance between Anastasia and Damen, whereas
The Silver Coin
will tell Breanna's story. Both Anastasia and Breanna are charming characters, and Damen is an intriguing hero. The story is full of mystery, thrills and passion and Andrea Kane's lovely prose. A wonderful read.
---
The Impostor by Elaine Fox
Leisure Books, June, 1999.
Paperback, 362 pages.
ISBN: 0843945230.
Ordering information:
Amazon.com.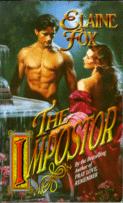 In 1815 England, Melisande St. Clair has made the match of the decade -- she is to be the next Duchess of Merestun after her husband inherits. She's a bit nervous, though. Her dreams are haunted by a man she's never met, and there are some disturbing rumors about her fiancé. When she finally decides that the marriage is a mistake and is exiting the house via her bedroom window, she gets the shock of her life -- the man from her dreams is right outside her window, dressed in the oddest clothes. He is Flynn Patrick, who has been transported back in time from 1998 -- not that Melisande believes that for a minute. The two join forces to head to London, but their troubles are just beginning. Melisande has been "ruined" by being in the company of an unmarried gentleman for several days on the road, and her fiancé is livid over her disappearance. When the Duke of Merestun declares that Patrick is indeed his long-lost son, both Melisande's and Patrick's worlds are turned upside down.
The Impostor
is a fun, lighthearted time travel romance which should please fans of the subgenre. The repartée is quick and funny, and the storyline is well-imagined. You'll read this one straight through without stopping.
---
Romance Reviews
Page One |
Page Two
Return to Book Reviews Index
---
More from Writers Write