Romance Book Reviews
Memories of the Heart by Marylyle Rogers
St. Martin's Press, August 1998.
Paperback, 308 pages.
ISBN: 0312966113.
Ordering information:
Amazon.com.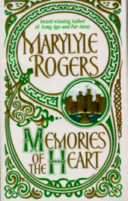 In 1145 Wales, the beautiful Ceridwen, Ceri to her friends, is determined to know love with the man of her dreams, even if it takes her grandmother's mystical powers to accomplish the deed. When her overlord Taliesan is wounded and is being tended by her grandmother, Ceri forces her grandmother to put a spell on him to fall in love with her. Ceri gets her night of passion, but at a terrible cost. When he is healed and returns to his castle, he remembers nothing of Ceri or their love. Determined to have the man she loves, Ceri travels to the castle to visit her aunt, who lives there. Taliesan is strangely attracted to the new castle resident and can't shake the feeling that he knows her. Soon, the intrigues of the Court threaten both Taliesan, Ceri and her beloved guardian who traveled with her to the castle. It will take all Ceri's love, strength and wisdom to avoid the evil plotting afoot at the castle and win the heart of her one true love.
Marylyle Rogers has penned a classic medieval romance that will truly enchant readers. The mystical touches and the vivid historical detail combine to create a vivid atmosphere which brings the characters to life. A spellbinding story that will have readers sighing with delight.
---
The Rival by Brenda Joyce
St. Martin's, August 1998.
Paperback, 437 pages.
ISBN: 0312966210.
Ordering information:
Amazon.com.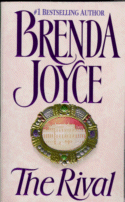 In 1760 England, Olivia Grey, the Countess of Ashburn has a terrible life. Burdened by the gift of "sight," her husband terrorizes her and her similarly gifted daughter Hannah. Garrick De Vere, the Viscount of Linville returns to England after being exiled by his father only to return to the same scandalous story that followed him for years: that he murdered his younger brother to inherit the title. Both outcasts from society, these two meet when Garrick must settle an old score with Olivia's husband. When Lionel, the long-lost heir returns, Garrick's world is torn apart. Drawn together, Garrick and Olivia's love seems impossible -- unless they can unite their skills to expose a long-buried secret from the past and set right a terrible wrong.
The Rival
is a passionate, sweeping story with complex, unique characters and a passion that will sweep away readers. Brenda Joyce has created a compelling tale which will leave readers breathless with anticipation for her next book.
---
Unforgiven by Mary Balogh
Jove, Jan. 1998.
Paperback, 315 pages.
ISBN: 0515122068.
Ordering information:
Amazon.com.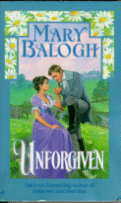 Kenneth Woodfall, Earl of Haverford, is finally growing tired of the good life that the gaming halls and pleasure houses of London provide him and his titled friends, who have been close since the War in which they all fought against France. Moira Hayes has been happy at Penwith Manor -- her home until her father's death and the passing of the land and the baronet's title to her distant, pompous cousin Sir Edwin Baillie. At 26, Moira is considered over the hill, so an offer of marriage to the insufferably boring social climber Sir Edwin is anything but attractive. Nevertheless, in order to keep a roof over her and her mother's head she agrees. What she doesn't count on is Kenneth returning to his nearby country estate. Although they once shared a passion, hatred was the rule between their families, and Moira blames Kenneth for her brother's death. Nevertheless, passion is not so easy to kill and the two are soon involved with each other when circumstances beyond their control force them together for an evening. Can they overcome their families' ancient feud to find happiness together?
Unforgiven
is another wonderful story from talented and popular author Mary Balogh. The characters of Moira and Kenneth are delightful, as is the insufferable yet kind social snob Sir Edwin Baillie. A charming story that will warm your heart as you root for the hero and heroine.
---
Return to Book Reviews Index
---
More from Writers Write
---