Romance Book Reviews
The Marriage Spell by Mary Jo Putney
Ballantine, June, 2006
Hardcover, 336 pages
ISBN: 0345449185
Subgenre: Historical
Ordering information:
Amazon.com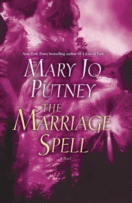 Jack Langdon, Lord Frayne, manifested magical powers early in life, to the horror of his conservative, aristocratic father. Determined to stamp out all the ill-bred taint of magic, Jack's father sent him the grim Stonebridge Academy, which is filled with sons of nobility who need the same treatment. After years of the strict school, Jack now hates magic and anyone who wields it. Jack is a brilliant officer in Lord Wellington's army and while on leave he suffers a terrible injury while hunting with his friends. His friends carry him to the nearest house where he is healed magically by Miss Abigail Barton, who impulsively extracts a promise of marriage as the price for healing him. Jack agrees to the proposal as an alternative to dying or being paralyzed for life. After all, he does need a wife, Abigail is sufficiently good looking and is one of the gentry. What he doesn't know is that Abigail has worshipped Jack from afar for most of her life. He also doesn't know that she is one of the most powerful wizards of her generation. After he heals, Abby offers to let him out of their deal, but by this time Jack isn't sure if he actually wants out of his obligations. Together they work to overcome the blocks to Jack's powers and to put right a terrible wrong from the past.
Mary Jo Putney continues her bestselling Guardian series set in an alternate history England where magic is quite real. This is the story of a very unusual marriage of convenience that turns into real love as Abby and Jack try to work through Abby's love for her magic and Jack's disdain for it. They also find time to really get to know each other, even as they attempt to deal with an ancient evil that has invaded Jack's family home. Mary Jo Putney has created a charming, unique and heartfelt story that is full of magic, wonder and -- of course -- true love.
---
On the Way to the Wedding by Julia Quinn
Avon, July, 2006
Paperback, 371 pages
ISBN 0060531258
Subgenre: Historical
Ordering information:
Amazon.com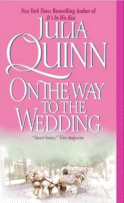 Leave it to bestselling author Julia Quinn to write an utterly romantic novel that blasts to smithereens the idea of love at first sight. In this last entry in the popular Bridgerton series, young Gregory Bridgerton has seen all six of his siblings succumb to the lure of love and is ready for his turn. When he meets Miss Hermione Watson he falls in love at first sight after seeing "the breathtakingly perfect curve of her neck." When Heroine's best friend Lucy Abernathy tells Gregory that Hermione is already fallen for her father's secretary, Gregory is undeterred. Lucy agrees to help him in his quest to win Hermione but falls in love with Gregory herself. And by the time that Gregory realizes that he actually adores the plainer Lucy, Lucy is already ready to walk down the aisle in an arranged marriage. Julia Quinn's light touch is perfect for this romantic farce which is as funny as it is heartwarming.
---
The Red Heart of Jade by Marjorie M. Liu
LoveSpell, July, 2006
Paperback, 369 pages
ISBN 050552631X
Subgenre: Paranormal
Ordering information:
Amazon.com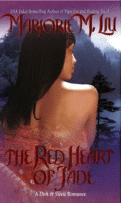 Archeologist Mirabelle "Miri" Lee is in Taipei with her friend and mentor Owen Wills, working on an ancient Chinese archeological find that could revolutionize her field of study. In the chest of a mummy, Owen finds a piece of jade that was actually implanted into the living person's chest, which must have been incredibly painful for the bearer. The piece of jade exerts a strange pull over Miri and she eventually removes it from the lab to keep it safe from thieves. Dean Campbell of paranormal detective agency Dirk and Steele is in Taipei trying to find a killer that burns his victims alive. An ex-cop, Dean is a powerful clairvoyant who can read the threads of people's thoughts, even after they have left the room. Miri was the love of Dean's young life, but terrible circumstances forced them apart when they were just teens. He's never been able to sense her presence during any of his world travels and assumed she died 20 years ago. Mirabelle and Dean meet, but their reunion is short-lived as it becomes clear that a group of thieves will kill anyone in their path to obtaining the ancient jade artifact. The artifact has great power and could actually change the world if it falls into the wrong hands. Miri and Dean are forced to go on the run for their lives outwitting a number of evil entities, while trying to solve the puzzle of the artifact. But the artifact itself may prove to be more dangerous to Miri and Dean than even their worst enemies.
Marjorie M. Liu cements her reputation as the next great star start of paranormal romance with her latest book,
The Red Heart of Jade
. She brings the mean streets of Taipei alive: the sights, the sounds and the smells are all vividly portrayed, and -- as usual -- the paranormal aspects of her stories are absolutely fascinating. But it is her ability to channel powerful emotions through her realistic characters that really sets her apart. Miri and Dean are passionate, intelligent and complex characters that you'll root for throughout this adrenaline-laced, gripping story.
---
Return to Book Reviews Index
---
More from Writers Write