Romance Book Reviews
Breaking Point by Suzanne Brockman
Ballantine Books July, 2005
Hardcover, 384 pages
ISBN: 0345480120
Subgenre: Contemporary Suspense
Ordering information:
Amazon.com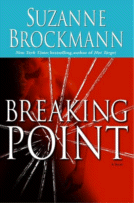 FBI Agent Max Bhagat has always put his career first. As the commander of the FBI's top counter terrorism unit, he always demands the best from himself and his team. When he receives news that Gina Vitagliano has been killed in a terrorist attack, Max is inwardly devastated, but quickly assembles a team to investigate. But then he gets an even bigger shock; Gina, the woman he fell for in a prior op (
Over the Edge
, 2001), is alive. She's been kidnapped along with her fellow aid worker Molly, who is being used as a pawn in a deadly game to trap Grady Morant a/k/a "Jones" an ex-Special Forces operative who has a shadowy past. Max and his top agent Jules Cassidy set out to rescue Gina, which requires them to make unusual enemies even more unusual allies. But after four years of a non-relationship, Max realizes that Gina is the one. And he'll do whatever it takes to get her home -- alive.
No one writes romantic suspense quite like Suzanne Brockmann. She has a way of making her characters seem larger than life, yet totally real. Her characters' intensity practically jumps off the page. Breaking Point has it all: snappy dialogue, star-crossed lovers, danger and plenty of action: both romantic and otherwise. Summer reads don't get any hotter than this.
---
Crimson City by Liz Maverick
Dorchestser, July, 2005
Paperback,
ISBN 0505526220
Subgenre: Paranormal
Ordering information:
Amazon.com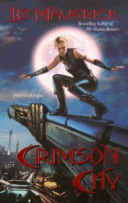 Liz Maverick, bestselling author of
The Shadow Runners
, begins a gripping new paranormal romantic suspense series with
Crimson City
. She writes the lead story and the final story, while other well-known romance authors write stories in the universe, with a total of six books planned. In the debut novel,
Crimson City
, readers are introduced to an alternate reality of Los Angeles. The city has been divided into three grids: the Werewolves (humans infected with the lycanthropy virus) live below ground, the humans live on street level and the wealthy and powerful Vampires who can fly live in towering skyscrapers above the city. An uneasy truce exists between the three species; laws are in effect to keep Werewolves and Vampires from biting and infecting more humans. But not everyone likes the arrangement, and skirmishes between the species are threatening to re-ignite an interspecies war. Vampire Fleur Dumont should be ruling her people, but instead her brothers rule in her stead because of her indiscreet past: she turned a boyfriend into a vampire at his request. But he regretted the change, and Fleur was nearly shunned for her misstep. When a mech -- a human cyborg -- murders Fleur's two half-brothers in a vicious attack, Fleur is left in charge of the vampire nation. She must work with B-Ops human Dain Reston to find the killers before war breaks out. But Dain and Fleur are powerfully attracted to one another, which can only lead to trouble in Crimson City.
Liz Maverick paints a gritty, urban portrait of Crimson City, as Los Angeles is now known. The mean streets backdrop works perfectly for this imaginative new series. Fleur Dumont, the vampire who has wealth and beauty but not the respect of her people, is an engaging character. Dain Reston, the cop who is troubled by the fact he can't remember his past or his dead wife clearly, is skillfully portrayed; there certainly more to his story than first meets the eye. When Fleur and Dain are together, sparks fly. Ms. Maverick sets up the story perfectly for the next entry in the series,
A Taste of Crimson
.
---
A Taste of Crimson by Marjorie M. Liu
LoveSpell, August, 2005
Paperback, 372 pages
ISBN: 0505526328
Subgenre: Paranormal
Ordering information:
Amazon.com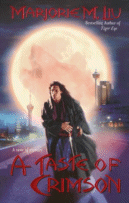 A Taste of Crimson
is the second book in this hot new futuristic series which began with Liz Maverick's
Crimson City
. This version of Los Angeles has a blood-soaked history: the humans, werewolves and vampires are in an uneasy truce after a brutal war that divided the city into three sections. The vampires live in towering skyscrapers, the humans are on the ground and the werewolves claim the underground. But there are more things in Crimson City than it first appeared. There are also demons, about whom most people know virtually nothing. The wealthy vampires generally look down upon the werewolves, who haven't been so financially successful. But the two races have decided to hold meetings about forming an alliance against a rogue human element that seems to be determined to destroy both races. Lone attacks on werewolves seem to be increasing, which is adding to the tension in the city. Michael, a vampire enforcer, is assigned the task of guarding the vampires during the negotiations. But when he intervenes to help a beautiful young werewolf, he ends up having to join forces with her to solve the murders and prevent a race war. Keeli Maddox is a powerful alpha werewolf, who isn't trusted by her clan because of her inability to control herself in wolf form. Her grandmother is the incredibly powerful alpha leader of the entire city. When Keeli and Michael fall for one another, they must deal with vicious racism from both races -- and escalating violence that they combine their considerable talents to stop.
Marjorie Liu burst upon the romance scene with her sizzling paranormal romance,
Tiger Eye
. In her second novel, she proves that
Tiger Eye
was no fluke: she really is the hottest new talent to come along in quite a while. Ms. Liu's writing packs a powerful punch; she has the ability to make a city where werewolves and vampires roam seem absolutely real. Michael and Keeli are a fascinating couple. Both are near-outcasts in their own societies who must also face the disapproval of their own races for their interspecies romance (although they both look quite human). Keeli must face up to the shocking secrets of her powerful family's past, while she fights for power that is rightfully hers. Marjorie Liu writes heroines that are strong, and heroes that are strong enough and interesting enough to stand up to them-without being obnoxious. That is a tricky thing to do, but Marjorie Liu is up to the challenge with this compelling and very entertaining tale.
--Claire E. White
---
Return to Book Reviews Index
---
More from Writers Write
---