Romance Book Reviews
Just Breathe by Dee Davis
Ballantine, July, 2001.
Paperback, 384 pages.
ISBN: 0804119678
Subgenre: Romantic Suspense
Ordering information:
Amazon.com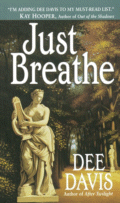 Aspiring travel writer Chloe Nichols has spent her last dime on a luxury European tour. She's using the tour as inspiration for a travel article that she is sure is her ticket to being a full-time writer. Her traveling companions are several very funny elderly ladies. When disembarking from a train in Vienna, Chloe (who is a bit of a klutz) stumbles onto a man just as he has been shot by a mysterious assassin. But before she can be questioned by some uncaring Viennese policemen, Chloe is literally whisked away from the scene by handsome, ex-CIA agent, Matthew Broussard. Matthew has traveled to Vienna to meet the man that Chloe tripped over and knows that Chloe will be the next target if the assassin sees her face. The next thing she knows, Chloe has become Matthew's fictional fiancé, much to the delight of her traveling companions. Can Chloe turn fiction into reality, while evading an assassin's bullet?
Vienna is the perfect backdrop for both romance and intrigue, and Dee Davis makes good use of the beautiful city in this funny and suspenseful romance in which no one is quite what he or she seems. The somewhat confused Chloe and the tough as nails ex-spy Matt (who also happens to be quite wealthy) are a perfect match, and their scenes together are most entertaining. Chloe's traveling companions, Charlotte, Irma and Willie are an absolute scream, who threaten to steal every scene in which they appear. Ms. Davis keeps the pacing fast, and the passion steamy in this immensely enjoyable read.
---
Moving Target by Elizabeth Lowell
William Morrow, June, 2001.
Hardcover, 453 pages.
ISBN: 0060198753
Subgenre: Romantic Suspense
Ordering information:
Amazon.com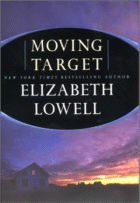 Serena Charters is devastated by the murder of her beloved grandmother, Lisbeth, who was burned alive in her own home. Lisbeth had spent her entire life guarding a secret: the location of the Book of the Learned, an ancient and priceless manuscript. But only four of the vellum manuscript pages are left for Serena, along with a beautiful and magical scarf, and a cryptic note from her grandmother urging her to find the rest of the book and to trust no one. Serena needs an appraisal of the authenticity of the pages, and turns to medieval manuscript excerpt Erik North, after she is offered $1 million dollars for the book by the creepy scion of one of America's oldest auction houses. But the Celtic Book of the Learned is over 1000 years old, is encrusted with gold and gemstones, and is absolutely priceless. When Erik and Serena meet, they feel that they have known each other for centuries, and begin to have dreams about past lives. As they search for the rest of the book, their lives are put in great danger as someone else appears to be willing to do anything -- even commit murder -- to get his hands on the valuable manuscript.
Moving Target
starts a new series which focuses around Rarities Unlimited, the firm for which Erik North works from time to time. Specializing in the purchase, sale and appraisal of beautiful and rare artworks, the firm has ties to the Donovans, the immensely popular clan from Ms. Lowell's bestselling series which includes
Pearl Cove
and
Midnight in Ruby Bayou
. Erik and Serena are a marvelous couple and their story is full of danger, intrigue and passion. The lore of the ancient manuscript is fascinating and well-researched, and the story brims with excitement and the barely concealed passion between Serena and Erik. This is a wonderful start to what is sure to be another fantastic series from Elizabeth Lowell.
---
Return to Book Reviews Index
---
More from Writers Write