Romance Book Reviews
The Givenchy Code by Julie Kenner
Downtown Press, May, 2005
Paperback, 384 pages
ISBN: 0743496132
Subgenre: Contemporary
Ordering information:
Amazon.com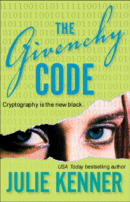 Melanie, a math geek who loves all things Givenchy, gets pulled into a real-life version of an online role playing game called Play.Survive.Win, when a tall, dark and handsome stranger delivers a mysterious message. The game is the invention of a now-deceased billionaire genius named Archibald Grimaldi who secretly collected all the personal information of the people who played the online game. Before he died, Grimaldi spent millions to set the game up in real life. He found that there were plenty of people just warped enough to enjoy the idea of hunting people in real life. Melanie had played the game years ago and forgotten about it. But Grimaldi apparently hadn't forgotten her high scores and assigns her the unenviable role of live Target. On the plus side, she does get a real-life handsome Protector named Stryker. Mel and Stryker must solve a number of encrypted clues stashed across Manhattan, in order to evade the Assassin and win the prize. If they go to the cops or refuse to play, they both die. So, with her Kate Spade tote in hand, she sets off on a hilarious, sexy and dangerous adventure in the wilds of New York City.
The talented Julie Kenner combines chick lit and romantic suspense to create a new subgenre that's absolutely irresistible. Mel is a refreshingly different heroine: she loves computers, math and brain teasers. But she also is simply mad for fashion, especially Givenchy, the genius who outfitted Audrey Hepburn. The dialogue is fast and funny and Stryker is the perfect Protector. Danger, fashion and hot romance: what more do you need?
--Claire E. White
---
Return of the Warrior by Kinley MacGregor
Avon, May, 2005
Paperback, 384 pages
ISBN: 0060565438
Subgenre: Historical
Ordering information:
Amazon.com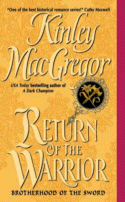 In Taagaria, a small kingdom adjoining Byzantium, Queen Adara is about to have her future destroyed unless she can find the husband she married in childhood and bring him back to rule at her side. The Regent Selwyn who rules nearby Elgedaer is demanding that she declare her husband Prince Christian dead and marry Selwyn's son Basilli, effectively making her a prisoner. So Adara enlists her cousin Thera to impersonate her and sets out for England to find the wayward Christian. Adara finds Christian, who had no idea he even had a wife. Not interested in being a King, he agrees to take her back to Taagaria, but he has no intention of staying. But Adara has other plans, and is a very determined woman.
This is the second entry in the bestselling Brotherhood of the Sword series,
A Dark Champion
. Medieval romances are difficult to pull off, but Kinley MacGregor has the skills to bring the time period and its characters to life. The bold Adara is an engaging heroine who takes action instead of wringing her hands in the corner of the castle, while enemies plot against her. This is romance of the high-minded, noble type, full of emotion and deep feeling. This story is for the true romantic: cynics should look elsewhere.
---
Return to Book Reviews Index
---
More from Writers Write
---