Romance Book Reviews
The Internet Writing Journal
The Maiden Bride by Linda Needham
Avon, April 2000.
Paperback, 374 pages.
ISBN: 0380796368.
Ordering information:
Amazon.com.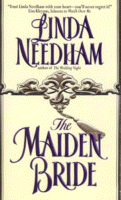 In 1351 England, people are suffering the after effects of a terrible plague breakout. Lady Eleanor Bayard believes herself to be a widow; her husband that she married by proxy was reputed to have died in Calais of the plague. Granted title to Faulkhurst Castle by the King as her widow's rights, Eleanor sets out with a ragtag group of companions to restore the broken down, but formerly profitable, estate. But Eleanor is not a widow at all. Her husband, the notoriously cold-hearted Lord Nicholas Bayard, is grief-stricken over the deaths of his son, his tenants and servants, which he believes to be his fault. He mopes around the castle and eventually agrees to serve as Eleanor's Steward. Eleanor finds the dour Steward quite attractive, but she knows there is something about him that doesn't quite ring true. Against impossible odds, Eleanor makes the estate thrive -- but there are those who would take her farm away from her, by force if necessary. As Eleanor and Nicholas' attraction for one another grows, Nicholas' secret remains a barrier between them. Can this ill-fated, arranged marriage turn into a union that will last forever?
The Maiden Bride
is a passionate, funny love story which will tug at your heartstrings. Eleanor's boundless passion for life and her determination to see good in everyone (even a pickpocket or a notorious warrior) make her a truly inspiring heroine. The grim, grieving Nicholas yearns for the sunlight which surrounds the good-natured Eleanor, and their chemistry is simply wonderful. Linda Needham captures the flavor of 14th century England with great skill, and her characters are vivid and alive. This is one you'll turn back to anytime you need a book which will lift your spirits.
---
Timestruck by Flora Speer
Love Spell, May 2000.
Paperback, 395 pages.
ISBN: 0505523787.
Ordering information:
Amazon.com.
Computer analyst Gina McCain is working on New Year's Eve to fix a Y2K problem at a sleazy detective agency. While doing the necessary programming, she is caught in some kind of time warp and is thrown back in time -- literally -- to 8th century France during the reign of Charlemagne. Gina falls through the roof of Lord Dominick's bedroom. He is, quite naturally, nonplussed at her arrival and thinks she is a spy for England. At first, all Gina wants to do is to get home to the twentieth century, but the more she gets to know Dominick, the less excited she is about returning to her drab life, although she does miss all the modern conveniences. Soon Gina and Dominick are in the midst of deadly political intrigue at the Court, and soon Gina will have to decide where -- and when -- she wants to be for the rest of her life.
Timestruck is a light and entertaining time travel romance which has real heart. Gina is totally out of her element in the 8th century, and is completely bewildered at a world without computers where grown men routinely attack each other with broadswords. Lovers of time travel romances will find this a pleasing effort by Flora Speer.
---
The Wild Swans by Kate Holmes
Love Spell, June 2000.
Paperback, 394 pages.
ISBN: 0505523833.
Ordering information:
Amazon.com.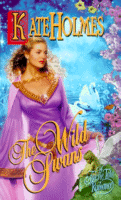 Kate Holmes was always a fan of the "Fractured Fairy Tales" which were included in the old Rocky and Bullwinkle cartoon shows. She enjoyed them so much that she decided to try her hand at one. The Wild Swans is a "fractured" version of the fairy tale by the same name which tells the story of a young princess who is forced to knit shirts out of nettles in order to break the spell of a witch that turned her twelve obnoxious little brothers into swans. The princess musn't utter a single word during the nettle knitting marathon, or her brothers will remain swans forever. While Princess Arianne is knitting away in the woods, along comes a handsome, chatty King Richard, who just happens to be looking for a wife that doesn't talk too much. Soon Arianne is Queen Arianne, but there is intrigue brewing at the palace, and Arianne's and Richard's marriage is in for a rough ride -- what ever will he think when he finds out his new, silent wife is actually quite the chatterbox?
Kate Holmes has taken a standard-issue fairy tale and turned it upside down and backwards, with hilarious results. The writing style is witty and quite funny. Arianne struggles heroically to keep silent as the handsome, but somewhat pompous, Richard goes on and on about his exploits; it takes him hours to even notice that she hasn't said a word! But the attraction between the two leads is compelling, nonetheless. This is the romantic fairy tale at its very best.
---
Return to Book Reviews Index