Romance Book Reviews
Page One of Two
Forced Mate by Rowena Cherry
LoveSpell, November, 2004
Paperback, 326 pages
ISBN: 0505526018
Subgenre: Paranormal
Ordering information:
Amazon.com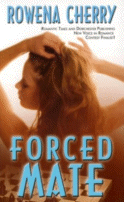 On Rowena Cherry's Earth, things look pretty much the same as they do now, with one exception. Aliens are among us, hiding in plain sight. The beautiful Djinni-vera is a Saurian warrior, trained from birth to assassinate the next god-Emperor of Tigron, Tarrant-Arragon. She is also a formidable psychic, and is engaged to be married to another Djinn (J-J) who also despises Tarrant-Arragon. Tarrant-Arragon knows that he must find a Djinni wife and his spies tell him that Djinni-vera is perfect for him. So he heads to Earth, impersonating a Saurian Knight, and promptly kidnaps Djinni-vera, takes her to his starship and heads for his home planet. Naturally, Djinni is furious and also suspicious of who Arragon really is. But he is being his most charming self, taking the ridiculous nickname of Tigger and tempting Djinni with everything he can think of. They are both quite intelligent, and so the chess match begins (Forced Mate is a chess term). Arragon must find a way to trick Djinni into marrying him before she finds out who he is and kills him. To make the game more complicated, J-J is undercover in Arragon's Army, Arragon's mother is a double agent masquerading as something else entirely, and Arragon's new Earth valet (a hilarious ex-English mercenary named Grievous) is beginning to feel more loyalty to Djinni than to Arragon. Add in the Djinn culture's obsession with all things sensual and you have one wild journey indeed.
As the title implies, the galaxy is a chess board and knights, queens, kings and pawns are all in play. Conspiracies abound and traps, both verbal and physical, are sprung on the unwary. A PEARL Award finalist for Best Paranormal Romance,
Forced Mate
breaks new ground in the genre with its mixture of science fiction, romance, and comedy of manners. Rowena Cherry writes with intellectual bite, sizzling sensuality and a wicked sense of humor.
--Claire E. White
---
Lessons in Seduction by Sara Bennett
Avon, March, 2005
Paperback, 376 pages
ISBN: 0060584386
Subgenre: Historical
Ordering information:
Amazon.com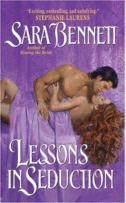 Vivianna Greentree has her work cut out for her. Determined to stop the notorious rake Lord Oliver Montgomery from tearing down Candlewood Estate and the Shelter for Poor Orphans, she asks the notorious courtesan Aphrodite to tutor her in how to bend a man to her ways. Oliver is not nearly as awful as Vivianna and everyone else believes him to be. His brother committed suicide at Candlewood, but Oliver believes that he was really murdered because of incriminating documents he had which would make things most difficult for Lord Lawson, the next Prime Minister. As Oliver follows the clues to his brother's murder, Vivianna finds that she has fallen for the rake with a heart of gold. But if the odious Lawson has his way, he will destroy everything that Oliver holds dear. Sara Bennett does a wonderful job with this traditional Victorian romantic suspense story that combines orphans, hidden identities, true love and a dastardly villain to great effect.
---
Romance Book Reviews
Page One |
Page Two
---
Return to Book Reviews Index
---
More from Writers Write
---