Romance Book Reviews
The Internet Writing Journal
The Conqueror by Judith E. French
Love Spell, December, 2003
Paperback, 355 pages
ISBN 0505525712
Subgenre: Historical
Ordering information:
Amazon.com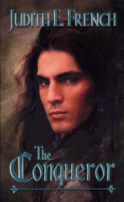 In 329 B.C., Alexander the Great, son of the King of Macedonia, conquered the Sogdian/Bactrian people in Ancient Persia. Roxanne, a beautiful young princess and heir to the throne of the twin kingdoms, can ride a horse and fight as well as any man. When her people are conquered by the seemingly unstoppable Alexander and his army, Roxanne becomes the first wife, true love and lawful queen of Alexander. To her surprise, the fiery and proud Roxanne comes to love the charismatic Alexander, although his ambitions and lust for conquest is so intense that it overrides his common sense. Marrying a Persian princess was an example of one of Alexander's brilliant political moves, helping to make his occupation more palatable to the conquered. But his people, the Macedonians, do not like the idea of a foreign queen, which does not bode well for her or her tiny son's future.
The true life romance of King Alexander and Queen Roxanne serves as the basis for Judith E. French's spellbinding novel,
The Conqueror
. Although we all know the real-life romance ultimately ended in tragedy, Ms. French takes their story and adds rich historical detail and her own interpretation of the conflicting facts known about Alexander to create an uplifting and hauntingly romantic story. Alexander clearly was a complex and brilliant man and Judith French perfectly captures the emotion and sparks that must have flown between these two strong-willed and passionate people. Ms. French brings the 4th century, B.C. to life, with fascinating and rich detail: from the clothing, to the jewelry to the unending political machinations of the man that conquered most of the known world. This is a must-read for anyone who loves a sweeping and unique tale of true love.
---
Single White Vampire by Lynsay Sands
Love Spell, September, 2003
Paperback, 369 pages
ISBN: 0505525526
Subgenre: Paranormal
Ordering information:
Amazon.com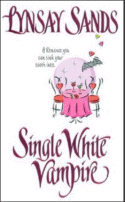 Kate C. Leever is a hardworking editor at a publishing house in New York that specialized in romances. Her most successful author is Lucern Argeneau, whose books are classified as paranormal romance. What Kate doesn't know is that Lucern is actually a 612 year-old vampire who considers himself a family biographer. The handsome, reclusive Lucern gets the shock of his life when Kate shows up on his doorstep to demand that he attend the annual Romantic Times convention to interact with his growing legions of fans. Reluctantly Luc agrees, not realizing that the convention will involve book signings, dancing, dining and lots of other activities that are anathema to the grumpy, reclusive vampire. But Kate is the bubbly, optimistic type, and Luc goes along with the absurd doings just to please her, managing to get involved in some hilarious situations.
Single White Vampire
is a madcap, lighthearted and extremely funny romance, with plenty of heart and charm. The curmudgeonly Luc (he is pretty old, after all, despite being gorgeous and youthful looking) is an endearing character who has his cold heart melted by his love for his perky editor. This is the perfect book to cheer you up after a particularly difficult day.
---
Spenceworth Bride by Virginia Farmer
Love Spell, September, 2003
Paperback, 300 pages
ISBN: 0505525607
Subgenre: Time Travel
Ordering information:
Amazon.com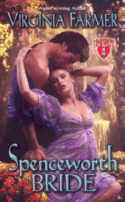 In 1799 England, in the tiny town of Haslett Ham, Nelwina Honeycutt is placed on the auction block by her drunken thug of a husband (the wives sale was a common 18th century way of ridding oneself of a troublesome wife). The illegitimate daughter of the local earl, Nelwina longs for a better life. But as soon as the local gypsy can tell her to be careful what she wishes for, Nelwina is transported to modern day England. She's sold off the block to Chicago-based architect Adam Warrick, who has just inherited the estate of Spenceworth. Adam pays one pound for his "wife" thinking she's an actress in a recreation. Now Nelwina finds that she has switched bodies with an American accountant, Jocelyn Tanner, and that Jocelyn has gone back in time to take her place (
The Sixpence Bride
). Nelwina is scared out of her wits, but soon realizes that she's much better off here than she ever was with her cruel husband. Now ensconced at Spenceworth manor, Nelwina is befriended by a mysterious gypsy and Adam's irrepressible mother. She and Adam are attracted to one another, but Nelwina is finding it hard to adapt to the 21st century way of life (pantyhose are especially puzzling.)
Time travel romances require the willing suspension of disbelief by the reader. Once that is accomplished, the author walks a fine line -- characters misplaced in time have to adapt, but not so quickly as to throw the reader right out of the fictional world in which the story unfolds. Virginia Farmer is an expert at finding this balance. Nelwina is a survivor. Although she's scared, she bravely tries to fit in with a world that has totally different values and customs than the one she left behind. Certainly the food and 21st century plumbing are much, much better than what she left behind. The dialogue is funny, and the characters are immensely likeable. Time travel romance lovers will be in heaven with Ms. Farmer's latest offering.