Romance Book Reviews
Page Two of Two
Edge of Darkness by Cherry Adair
Ballantine Books, August, 2006
Paperback, 336 pages
ISBN 034548522X
Subgenre: Paranormal
Ordering information:
Amazon.com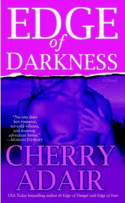 Cherry Adair has created a paranormal trilogy (
See also, Edge of Danger
and
Edge of Fear
) that thrills as much as it entertains. The trilogy tells the story of the three Edge brothers: they are all wizards, and they all work for T-FLAC a secret government operation that uses their paranormal skills to fight terrorists and other threats. This is the third and final book in the series; all three are happening at the same time. This story belongs to the most dangerous brother, Duncan Edge. Someone is killing wizards, which is not an easy thing to do. Before lapsing into a coma, Duncan's mentor Henry Morgan sent Duncan a message to keep wizard Serena Brightman Campbell safe. Serena and Duncan grew up together, but their relations lately have been strained. Duncan, like his two brothers, knows that he can never fall in love or get married because of the Nairne curse, which has bedeviled his family for hundreds of years. Any true love of an Edge male dies a horrible death. Serena, Duncan and their old friend Trey Culver have been called to compete for the lead position on the Wizard's Council. They must pass four tests, and the winner will lead the council. Serena is irritated by Duncan's attempts to protect her and rebuffs all his overtures. But the more they work together, the more they realize that they are meant to be together.
Duncan becomes more and more worried as he discovers that someone is trying to sabotage Serena's humanitarian food growing project, and a killer is stalking her. Meanwhile the stories of the other two Edge brothers are also winding up; they all conclude in one fiery and very exciting conclusion. This is a fantastic, exciting trilogy that paranormal romance fans will relish.
---
Miss Understanding by Stephanie Lessing
Avon Trade, October, 2006
Trade paperback, 332 pages
ISBN 0061133884
Subgenre: Contemporary
Ordering information:
Amazon.com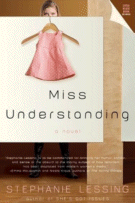 In
She's Got Issues
, readers met Chloe Rose, the air headed heroine who landed a job at
Issues
magazine and found her prince charming, Dan Princely the publisher of
Issues
. Chloe's sister Zoe, the intellectual, brilliant feminist without an ounce of fashion sense, gets her own story told in
Miss Understanding
. Dan hires Zoe to be the new editor of the fashion magazine and Zoe dives right in. She turns the fashion bible into a "how to manual" about feminist empowerment, full of advice about how women can not be so mean to each other. Zoe renames the magazine
Miss Understanding
, adds literary articles, and deletes all the popular fashion and makeup tips. The staff hates her and the new style of the magazine and sets out to destroy Zoe. Zoe and the staff battle endlessly over fashion, women's rights and how the magazine should be run. Meanwhile, women are unsubscribing in droves.
Stephanie Lessing is a very entertaining writer. Zoe is a very unusual heroine: she's strident, she's not always likable and, frankly, she's pretty strange. But Zoe grows on you after a while, especially after you learn about her mortifying childhood in which she was the butt of endless jokes and teasing by the mean girls' clique. The two sisters, Chloe the lovable dimwit and Zoe the one woman revolution make an unusual team, but they demonstrate that sisterhood conquers all.
---
Romance Book Reviews
Page One
|
Page Two
---
More from Writers Write