Romance Book Reviews
Page One of Two
A Clean Slate by Laura Caldwell
Red Dress Ink, November, 2003
Trade paperback, 320 pages
ISBN 037325038X
Subgenre: Chick Lit
Ordering information:
Amazon.com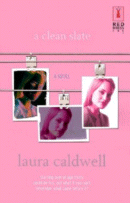 Kelly McGraw seemed to have it all: a great, high-paying job, the perfect boyfriend and lots of friends. But one day reality smacks her in the face: she goes to her house only to find that her key doesn't fit and someone else lives there. Nothing is right -- her boyfriend thinks she's stalking him and she doesn't seem to have any recollection whatsoever of the last five months of her life. Kelly eventually finds out that her downward spiral started on the day her boyfriend dumped her and she got fired from the job where she thought she was going to make partner. And worse things happened, but Kelly can't remember them…which suits her just fine. Faced with a blank slate for her life, she takes a job with a famous, but disgraced fashion photographer and learns to love her new life. But the past is never far behind us, and Kelly is about to meet up with hers in a very shocking turn of events.
There is more "lit" than "chick" in this compelling and well-written second novel from Laura Caldwell, author of
Burning the Map
. Ms. Caldwell takes the genre up a notch with her intimate portrait of a woman's life when her world is shattered and she is forced to make some very tough decisions about her future. Written with depth, wit and humor,
A Clean Slate
is an engrossing read. The underlying theme of the book, that our futures are solely in our own hands regardless of circumstances, is both universal and relevant for today's woman.
---
Dark Melody by Christine Feehan
Leisure Books, November, 2003
Paperback, 374 pages
ISBN: 0843950498
Subgenre: Paranormal
Ordering information:
Amazon.com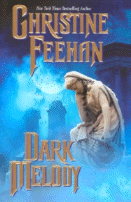 Dayan, the mesmerizing lead singer for the Dark Troubadours, is a Carpathian. Carpathians are vampire hunters with paranormal abilities who must find their lifemate or risk turning into vampires themselves. When playing a small club one night, Dayan senses that his lifemate is near. Her name is Corinne Wentworth, a widow whose husband was recently murdered. Now the same people who killed her husband are after her and her husband's sister, Lisa. Corinne is pregnant, and has a terminal heart condition which makes it unlikely that she can live through the stress of giving birth. To save her life, Dayan must turn her into a Carpathian. But the difficult transformation can only happen after she has given birth. The two fall in love, but it's a race against time to save Corinne's and the baby's life.
This is the twelfth book in Christine Feehan's popular Carpathian series. In
Dark Melody
, Ms. Feehan throws a twist at her dark, handsome hero -- the woman of his dreams is pregnant with another man's child. To his credit, after his initial shock wears off, Dayan steps up to the plate and deals with the situation admirably. This heartfelt and passionate story is sure to resonate with Ms. Feehan's many fans.
---
Romance Reviews
Page One |
Page Two
Return to Book Reviews Index
---
More from Writers Write