Romance Book Reviews
Page One of Two
Burning the Map by Laura Caldwell
Red Dress Ink, November, 2002
Trade paperback, 288 pages
ISBN: 0373250215
Subgenre: Women's Fiction
Ordering information:
Amazon.com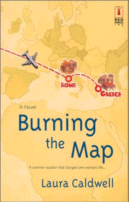 To most people, Casey Evers looks like she has it all: a new job at a top law firm, a devoted boyfriend and a nice family. But Casey is not even sure she wants to be a lawyer, and spend her days taking endless depositions, and defending medical malpractice suits. And her boyfriend John is nice, but is he perhaps a little boring? Before she settles into this predictable life that she has chosen for herself, Casey agrees to head off to Rome and Greece for one last fun trip with her best friends, Kat and Lindsey. Suddenly, Casey finds herself on an emotional roller coaster. She, Kat and Lindsey just can't seem to get along, for one thing. Her friends accuse of her of changing since she met John. And Casey finds herself attracted first to an Italian man and then to an Irishman -- whom Lindsey also finds attractive. Between picnicking at the Roman Coliseum after dark and partying all night on the Greek island of Ios, Casey realizes that she really can't escape from herself, no matter how far she travels. More importantly, she realizes that it's time to make some important decisions about her priorities in life.
Burning the Map
is a fast, funny and heartfelt journey into a young woman's life. With all the choices which women face today, readers will certainly be able to identify with Casey's inner (sometimes hilariously neurotic) dialogue as she muses over her future. The backgrounds of Rome and Greece are vividly portrayed, as are the characters of Kat and Lindsey. Ms. Caldwell also explores the theme of the importance of female friendship in women's lives. This is a fast-paced, funny and sexy novel which is sure to garner first-time author Laura Caldwell a devoted following.
---
My Favorite Bride by Christina Dodd
Avon, September, 2002
Paperback, 384 pages
ISBN: 0060092645
Subgenre: Historical
Ordering information:
Amazon.com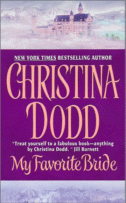 Samantha Pendregast was rescued from the streets of London and a life as an infamous pickpocket by Lady Adorna Bucknell, the owner of the Distinguished Academy of Governesses. Fired from her last post because she dared to cross her despicable employer, Samantha accepts a post in far northern England as governess to six children. The children's father is the handsome, but rather forbidding Colonel William Gregory. A widower, Colonel Gregory hasn't a clue how to raise children, being more used to barking orders on the parade ground than teaching little girls how to behave around company. Samantha has a real knack with children, and she has a growing fondness for her employer. But he is quite the martinet, and doesn't think that Samantha is wife material. Then again, he does find her amazingly competent and very attractive. As sparks fly between Samantha and William, intrigue also lurks around the corner: can these two hard-headed individuals finally find true love?
In this latest charming entry into the governess brides series, Christina Dodd takes the basic plot from
The Sound of Music
and gives it a wonderful, unique spin. Samantha and William have so much chemistry between them that their scenes are an absolute joy to read. The dialogue is witty, the children are funny and the espionage subplot only adds to the excitement in this delightful and passionate romance.
---
Romance Book Reviews
Page One |
Page Two
---
Return to Book Reviews Index
---
More from Writers Write