Riding the Snake by Stephen J. Cannell Review
William Morrow, Oct., 1998.
Hardcover, 383 pages.
ISBN: 0688158056.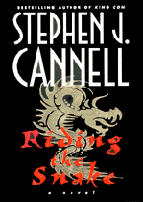 Devastatingly handsome playboy Wheeler Cassidy has just received the shock of his life. His beloved little brother, who is a politically connected attorney in L.A., has just been murdered under mysterious circumstances. More used to downing cocktails and picking up rich socialites at the exclusive Westridge Country Club, he finds himself in the middle of a murder investigation headed by Tanisha Williams, an African American detective who made it out of the South Central L.A. ghettos by grit, determination and drive. Tanisha and Wheeler are an unlikely couple -- they both grew up in L.A., but their childhoods could not have been more different. As the murder investigation progresses, it becomes clear that Wheeler's brother was involved in some very heavy illegal dealings with a notorious Chinese Triad. Their investigation will take them from the backstreets of the hood in South Central to the mysterious walled city in Hong Kong, where violence is common and regard for human life is almost non-existent. It is up to Tanisha and Wheeler to put aside their differences to find the killer and stop a catastrophic event which could destroy most of Southern California.
Riding the Snake is a thrill a minute ride which takes readers into the fascinating world of the Chinese criminal underworld, telling the story of the river of illegal drugs, immigrants and money which flows into the U.S. from China. The interaction between the two main characters makes for interesting and compelling reading -- the character of Tanisha is especially well-done. This is Cannell's best work yet. With rich detail, a gripping plot, edge of your seat suspense and a fascinating look at some very real political issues, Riding the Snake is a must-read for anyone who enjoys thrillers, mysteries or just a well-told story.
Ordering information: Amazon.com.
---
More from Writers Write
---