Reviews of Writing Books
Page One of Two
The Complete Guide to Book Publicity by Jodee Blanco
Allworth Press, April 2000.
Paperback, 277 pages.
ISBN: 1581150466
Ordering information:
Amazon.com.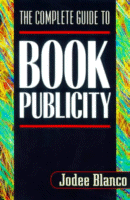 This comprehensive reference about book publicity provides a great deal of information about promoting books and the book industry itself. The book covers a variety of promotion topics, including types of book campaigns, media research, pitching the media, how to interview, author tours, promotional budgets, hiring outside publicists and general, helpful information about how the media operates. A very good chapter, entitled "How to Write the Perfect Press Kit," helps authors and publicists create a knock-out press kit, and provides helpful advice, tips and sample materials. The book also includes sample press releases, author bios and cover letters. The section on author tours is also excellent, providing information on books that shouldn't be toured, the costs of book tours, how to locate media escorts and how to book features. A final, helpful chapter entitled, "Crisis Management," provides suggestions for how to turn things around when something doesn't go as planned, such as when media arrangements are bumped by breaking news.
Author Jodee Blanco is a prominent book publicist and president of the public relations firm Blanco & Peace Enterprises, Ltd. She has managed book campaigns for over fifteen
New York Times
bestselling authors. This is a must-have for any serious novelist in today's market, where marketing opportunities must be carefully planned and seized. In addition, this is also a great reference for professional book publicists and anyone involved with book sales.
---
The Penguin Dictionary of American English Usage and Style by Paul W. Lovinger
Viking, July 2000.
Hardcover, 491 pages.
ISBN: 0670891665
Ordering information:
Amazon.com.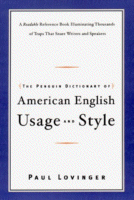 This handy English usage and style guide is presented in dictionary form and cross-referencing is provided to help readers find information quickly. Readers can look up words and phrases such as latter, nevertheless, imply and infer, regardless, loose and lose and "could care less" to find out where and how to use them properly, and to locate answers to any grammar or usage problems commonly associated with these terms. The book provides special help sections as well. Look up
punctuation
in order to alleviate any confusion you have about colons, commas, hyphens, exclamation points, parentheses and question marks. Look up
confusing pairs
and you will find advice on using commonly confused pairs such as arrant and errant, precede and proceed, moral and morale and disassemble and dissemble. Other helpful sections discuss plurals and singulars, pronouns, series errors, tense and modifiers. One of the more interesting, and often humorous, aspect of the book is that it frequently points out grammar and usage mistakes from newspaper editorials, speeches, ads and other writings. This book is packed with advice, tips and definitions to help writers chose the correct word form in their writing, and would be a great addition to your reference bookshelf.
---
Page 1 |
Page 2
Return to Book Reviews Index
---
More from Writers Write