Reviews of Writing Books
Page One of Two
Beginnings, Middles & Ends by Nancy Kress
Writer's Digest Books, May 1999.
Paperback, 149 pages.
ISBN: 0898799058
Ordering information:
Amazon.com.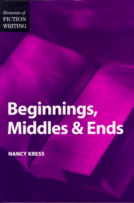 Nancy Kress, a popular of author of science fiction and fantasy novels including the Hugo and Nebula award-winning
Beggars in Spain
, provides valuable instruction for writers in
Beginnings, Middles & Ends
. The reference, which works its way from beginnings to endings, allows writers to focus on the part of their fiction they struggle with most. Each section includes advice about what each part of the story or novel should and should not contain, instruction to improve writing skills, excerpts from stories and novels that work and exercises for writers. Highlights from the text include The Swimming Pool Theory, for use when creating backfill and flashbacks, a list of ways writers get stuck in the middle of stories with concrete advice about how to avoid and break through them and a checklist for writing successful endings.
Nancy Kress knows what it takes to make a story or novel great, and conveys this information effectively to the reader. She also helps writers avoid common pitfalls. Enhanced with exercises, this book contains great methods to help writers create a complete and appealing short story or novel.
---
Creative Nonfiction by Philip Gerard
Story Press, March 1999.
Trade Paperback, 216 pages.
ISBN: 1884910432
Ordering information:
Amazon.com.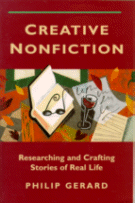 This informative guide provides instruction on how to research and create appealing nonfiction stories. Author Philip Gerard, a writing program director, freelance writer, novelist and scriptwriter, uses experiences from his own career and numerous interviews with famous and established writers to create a compelling text full of practical advice that both helps and encourages beginning nonfiction writers. The book provides instruction on various concepts in creative nonfiction including: finding an original subject, researching, interviewing skills, length, telling a true story, autobiographies, memoirs, personal essays, style, attitude and ethics. For each concept Gerard backs up his advice with concrete examples to show what works and what doesn't work. Gerard's delivery is straight-forward and upbeat; it's sure to make a positive impact on the developing writer. Some highlights from the book include how to ask the right questions at an interview, making people in nonfiction stories come alive by using devices used by fiction writers, a list of references to keep by your writing desk and a section about how to determine the form of your nonfiction story. These valuable ideas and many others make
Creative Nonfiction
a must-read reference for nonfiction writers.
---
Click Here For Writing Book Reviews Page Two
Return to Book Reviews Index
---
More from Writers Write