Reviews of Writing Books
Self-Editing for Fiction Writers by Renni Browne and Dave King
HarperCollins, 1994.
Paperback, 226 pages.
ISBN: 0062720465
Ordering information:
Amazon.com.
Many writers do not even know where to begin when it comes time to edit their manuscripts. Professional editors Renni Browne and Dave King help to demystify the process in
Self-Editing for Fiction Writers
. The book focuses on numerous concepts writers often struggle with, including: showing and telling, characterization, point of view, dialogue, repetition, proportion, interior monologue, paragraph length, style and voice. Instruction in the book is driven home with effective examples and concrete advice. Each section also includes self-editing exercises with answers included in the back of the book so writers can check their progress. A reading list of other resources is also included.
Self-Editing for Fiction Writers
is like having a professional editor looking over your shoulder, helping you to avoid the most common mistakes writers make and to polish your manuscript into a professional format more likely to attract that agent's or editor's attention. A great aide for writers of all levels.
---
1999 Children's Writers and Illustrator's Market edited by Alice Pope
Writer's Digest Books, January 1999.
Trade Paperback, 392 pages.
ISBN: 0898798779
Ordering information:
Amazon.com.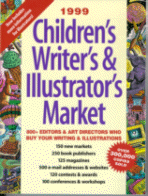 This year's edition of this valuable resource for children's writers and illustrators contains new market resources, articles and interviews. The first section of the book contains information on the basics of the business, including: information on submitting manuscripts and illustrations, an article on how to make a picture book dummy, networking, writer's groups, interviews with authors who have made their first sale and other tips to help beginners in the children's book business. Market listings in the book provide author and illustrator guidelines for publishers of books, magazines, puzzles, greeting cards, games and plays. The publisher listings include: emails, phone numbers, physical addresses, website addresses, names of the editors, what the publication is looking for, payment terms, the amount of material purchased annually and information on how to submit your work. Valuable tips and suggestions from the editors and publishers are also included. The market listings can be referenced alphabetically and by genre and age-level. Also included in the book are listings for writing conferences, clubs, contests and organizations.
The
1999 Children's Writer's & Illustrators Market
is a complete resource for children's writers and illustrators with practical advice on the business end of writing for children and accurate and up-to-date listings of publishers looking to buy children's stories and illustrations. An exceptional reference which any children's writer or artist must own.
---
On Writing Well by William Zinsser
HarperCollins, April 1998.
Trade Paperback, 308 pages.
ISBN: 0062735233
Ordering information:
Amazon.com.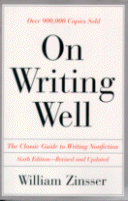 This guide to writing effective nonfiction provides instruction and examples on how to improve your overall nonfiction writing, and also provides advice on specific types of nonfiction writing. The first section of the book covers general writing issues such as style, word usage, openings, endings and grammar. The second series of chapters provides instruction on writing in different nonfiction genres including: literary nonfiction, interviews, travel articles, memoirs, science, business writing, sports, arts and humor. The final chapters in the book address finding your unique writing voice, having confidence in your work and the decisions that writers make.
This valuable writers tool was developed by William Zinsser from his teachings of writing at Yale University. This is the sixth edition of the book and includes new chapters that urge writers to live interesting lives, focus on specific portions of the article they are writing as opposed to the entire article, and establish a distinctive writer's voice.
On Writing Well
is an inspirational and informative resource that any serious nonfiction writer should read at least once.
---
Return to Book Reviews Index
---
More from Writers Write