Reviews of Writing Books
The Internet Writing Journal
The Complete Idiot's Guide to Journaling by Joan R. Neubauer
Alpha Books, November 2000.
Trade Paperback, 365 pages.
ISBN: 0028639804
Ordering information:
Amazon.com.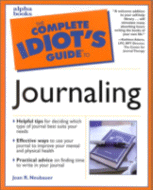 Although keeping a journal is not a new idea, since the advent of computers it has become an absolute phenomenon. Although to some it might seem that only a true idiot would not know how to start a journal, this reference goes far beyond the concepts of simply putting pen to paper or keeping an old fashioned diary. This book is a thorough reference about different methods and types of journaling, the process of selecting a journal, how journaling can benefit your health and help you grow as an individual. After providing an introduction to the journaling and discussing the tools you will need, the book devotes chapters to different types of journals. Some of the journals covered include: the log, the healing journal, the unsent letter journal, the reflective journal, the family journal, the dream journal, the historical journal, the travel log and the writer's journal. The book also provides tips for improving your journal, finding time to write and how to use your computer and the Web. A reference section which lists Internet sites about journaling is also included. If you are serious about starting a journal, then this guide will help you get started and help you select the right journal for you.
---
How to Publish and Promote Online by M.J. Rose and Angela Adair-Hoy
St. Martin's Press, January 2001.
Trade Paperback, 257 pages.
ISBN: 0312271913
Ordering information:
Amazon.com.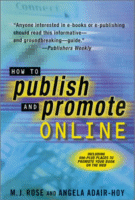 One of the most interesting stories relating to the rise of the Internet is the effect it has had on the publishing industry. With new technologies such as epublishing and print on demand services, writers were suddenly faced with an overwhelming array of choices when seeking to publish a manuscript. Now, two of the most qualified people on these subjects -- M.J. Rose and Angela Adair-Hoy -- have teamed up to provide a wealth of information about ebooks, epublishing and online marketing. The book contains over fifty articles on these subjects. Some of the many topics covered in the book include: ebooks, epublishing, print-on-demand, designing your book, self-publishing, author websites, small presses, online booksellers, blurbs, writing news releases, author chats, getting ebooks reviewed, email promotion, e-serials and search engine registration. The book also includes a useful glossary and a large resource section with over 500 links to publishing and promotion related websites.
Novelist and
Wired
columnist M. J. Rose has been an omnipresent voice of epublishing; she launched a successful off-line writing career of her own from her saavy online promotion of her book
Lip Service
. Angela Adair-Hoy has also helped writers online with a writing newsletter, how-to ebooks about epublishing and with BookLocker.com, the successful epublishing service and ebookstore she founded and runs. So it is altogether fitting that these two forces in epublishing came together to create this extremely useful and easy to understand writer's aide. Anyone who is considering self-publishing, epublishing or promoting a traditionally published book on the Internet will find this book to be an invaluable reference.
---
Writer's Online Marketplace by Debbie Ridpath Ohi
Writer's Digest Books, January 2001.
Hardcover, 262 pages.
ISBN: 1582970165
Ordering information:
Amazon.com.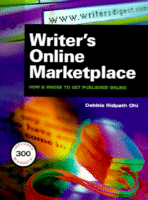 The
Writer's Online Marketplace
contains advice, resources and market listings for getting published online. Articles in the book cover email basics, online submissions, electronic rights, networking, promotion and epublishing. Interesting interviews with John Feldcamp, CEO of Xlibris, Josh Daniel, managing editor of
Slate
, Paula Guran, editor of
DarkEcho
and several other writers and editors are also featured. The market listings include contact information, pay rates, needs, circulation and response times for each online market listed. The listings themselves are slightly difficult to read; they are presented as a large, single block of text. (Some additional formatting or bold subject headings as featured in the
Writer's Market
would solve this problem.) Some of the 300 paying online markets provided in the book include
Adventureseek, Backpacker, Career Magazine, ComputorEdge, ConsumerSearch.com, fabjob.com, Gorp, Mountainfreak, Orato, Salon.com, Teenwire.com
and
WineToday.com
.
Debbie Ridpath Ohi is the founder and editor of Inkspot.com, a popular online writing community and resource, which is now owned by epublisher Xlibris. Through Inkspot and Inklings, the website's popular newsletter, Ms. Ohi has kept writers up to date with online markets and opportunities for several years. Now, current online markets are collected in this one, handy reference guide. The market listings combined with the helpful articles and interviews make this a valuable book for freelancers and writers who wish to sell their work online.
---
Return to Book Reviews Index