Reviews of Writing Books
The ASJA Guide to Freelance Writing edited by Timothy Harper
St. Martin's Griffin, September, 2003
Paperback, 314 pages
ISBN: 0312318529
Ordering information:
Amazon.com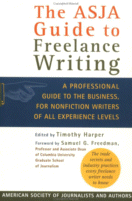 This guide from the ASJA offers advice to authors, freelance journalists and professionals looking to profit from their hard work. The book provides a collection of articles which offer tips about writing, dealing with editors, paying taxes and many other problems and situations freelance professionals and authors will encounter in their career and work. Edited by ASJA member Timothy Harper, a former Associated Press national writer and full-time freelance writer, the book contains 26 articles by different experts that offer advice and tricks of the trade. Highly recommended.
---
The Freelance Success Book by David Taylor
Peak Writing Press, February, 2003
Paperback, 336 pages
ISBN: 097173304X
Ordering information:
Amazon.com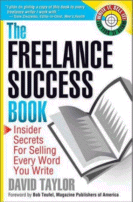 The Freelance Success Book
offers novice writers a unique and valuable perspective, because it is a written by publishing insider David Taylor, a former executive editor at Rodale Press (now Rodale, Inc.), a leading publisher of such magazines as
Prevention, Outside
and
Men's Health
. Taylor looks at every aspect of the freelance writing business -- from query letters to the headlines of magazine articles -- and gives his opinion from an editor's viewpoint. He helps writers learn what editors want to see and how writers can have their work taken seriously, even at the big magazines. Examples of Taylor's unique advice include how to use magazine ads to target the publication for articles, advice for what to do when you don't get paid and a handy chart showing what editor job titles mean and how to know who is the best person to submit your work to. The book also includes samples for freelancer invoices, copyright permission requests and freelance contracts. This is a very helpful tool for novice freelancers that can help them target their work for the top markets. In addition to practical guidance and facts about the freelance business, this book will also give freelancers confidence in approaching editors and submitting manuscripts and queries.
---
Outwitting Writer's Block by Jenna Glatzer
The Lyons Press, October, 2003
Paperback, 250 pages
ISBN: 1592281249
Ordering information:
Amazon.com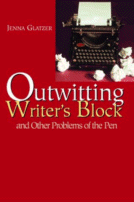 Jenna Glatzer, screenwriter, author and editor/founder of absolutewrite.com, has come to the rescue of blocked creative minds everywhere. In her book,
Outwitting Writer's Block
, Jenna Glatzer offers so many ways to get unstuck that one of them is bound to work for you. She also helps writers determine what is causing their writer's block and other writing difficulties. Along the way Glatzer dispels common myths about writing like "You must isolate yourself to write," "You must outline before you write" and "You must write about what you know." Jenna demonstrates how by using journals, effective time management, relaxation, and removing negative thoughts and self-doubt, writers can move toward and finish their writing goals. Through advice, tips and encouragement Jenna provides enough inspiration and motivation to unstick any writer. If you still can't think of a thing to write after reading this book, perhaps you should consider a career other than writing.
---
Return to Book Reviews Index
---
More from Writers Write