Red Sky in Mourning by Patricia H. Rushford Review
Bethany House Publishers, Nov., 1997.
238 pp. ISBN: 1556617313
Paperback.
Ordering information:
Amazon.com.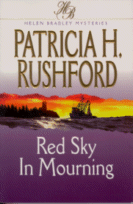 Helen Bradley isn't your usual newlywed. A former police officer, now a freelance travel writer, she juggles the demands of her new marriage to Irish special agent Jason Bradley with her career and her devotion to her children and grandchildren. Her latest writing assignment takes her away from her newly-retired husband to an innocent looking coastal town on the Long Beach Peninsula of Washington State where she must finish a regional travel guide for the area. After arriving at the charming bed and breakfast which will serve as her base of operations Helen finds out why Isabelle, the previous writer, didn't finish the project -- she's dead. All Helen's old police instincts are aroused and she quickly ends up doing more investigating into the death of the first travel writer than researching her travel assignment. Suspecting that Isabelle was murdered because she stumbled onto local drug smuggling activities, Helen launches her own investigation with the reluctant help of the local Coast Guard. Quickly realizing that the seemingly-innocent picturesque coastline town is covering up some sordid secrets, Helen digs deeper for the truth. Her investigation must be bothering somebody; Helen is attacked and the bodies start piling up. Can Helen find out the truth about Isabelle's death before she becomes the next victim?
This is the second book in the Helen Bradley mystery series. With an unusual heroine and full characterizations Rushford has crafted an interesting story which Christian and non-Christian cozy readers alike will enjoy. Rutherford is at her best when creating complex characters and the relationships between them. Helen is a sincere, likeable, gutsy heroine who in a tough spot is more likely to say a prayer before whacking the bad guy over the head than to cower in the corner hoping for divine inspiration. And she's certainly not the preachy type -- she exhibits her beliefs by example rather than by proselytizing. An unusual sleuth and an interesting cast of characters make for a quick and entertaining read.
---
More from Writers Write