Plastic Surgery : What You Need to Know Before, During and After Review
Plastic Surgery : What You Need to Know Before, During and After
by Richard A. Marfuggi, M.D.
Perigee, Feb., 1998.
Trade Paperback, 226 pages.
ISBN: 039952374X.
Ordering information:
Amazon.com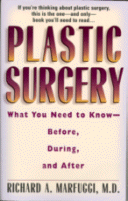 Thinking about having a little nip and tuck to hold back the ravages of time? Plastic surgery is more popular than ever due to the more sophisticated methods and lower prices available. But plastic surgery is still surgery -- with all of its attendant risks.
Richard Marfuggi, M.D., is a board-certified plastic surgeon who has practiced in New York City since 1982. His new book is a primer for anyone interested in having plastic surgery of any kind. The book provides an overview of the surgical procedures which are available today and provides for each procedure a breakdown of the procedure itself, length of procedure, anesthesia, whether it is performed on an in or out-patient basis, healing time, pain, incisions/scarring, specific risks of the surgery, duration of results, what to expect, fees/insurance, and important questions to ask your doctor about that procedure. Photos are also provided showing before and after shots of each procedure. Plastic Surgery: What you need to Know Before, During and After is an excellent guidebook for anyone considering plastic surgery.
---
More from Writers Write
---