If You Give a Pig a Pancake Review
If You Give a Pig a Pancake
Laura Numeroff, Illustrated by Felicia Bond
HarperCollins, May 1998.
Picture Book, 29 pages.
ISBN: 0060266864.
Ordering information:
Amazon.com.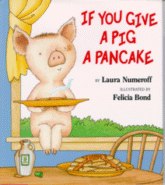 Pigs are hungry. Pigs are messy. Pigs are
cute
, especially the one in
If You Give a Pig a Pancake
. Yessirree, Laura Numeroff and Felicia Bond have gone to the County Fair with this prize pig and won a Blue Ribbon. This latest addition to their classic menagerie of books,
If You Give a Mouse a Cookie
and
If You Give A Moose a Muffin
certainly maintains the high standards of hilarity set in their two previous collaborations.
We are introduced to this precious little porker on the title page as she is strolling along with her bandanna on a stick. She must get a whiff of something yummy, because the next picture shows her with bandanna abandoned while she totters on a tower of clay pots peering in a window. When she pokes in her snout in for a better smell of pancakes hot off the griddle, of course, the little girl inside offers the hungry little piggy a pancake. Of course, we all know that pancakes have to have some maple syrup. Of course, being a pig means that she'll get all sticky, which means, of course, she'll want to take a bath with lots of bubbles…and a toy. While the little girl's back is turned trying to find a toy, of course, the pig being a pig is making a mess with the bubbles. Of course, this being a Numeroff/Bond story, the little girl and the pig continue making messes and getting out of them and moving on to their next (mis)adventure with great glee and aplomb as chaos ensues. Of course, since this is a circular story it ends
almost
as it began except the little girl is asleep on her kitchen table amidst the shambles of her house with the pig gleefully sitting on top of the table clutching the maple syrup jar. And chances are if she asks you for some syrup, she'll want a pancake to go with it.
This is a delicious story that all children (and the adults who read it to them) will have memorized after one or two readings at most. That's the point of circular stories. No matter how many times (and I predict at least a zillion) it's read everyone will have fun predicting what the pig will want or do next. And what a pig! She's daring, fun and imaginative thanks to Numeroff. Her facial expressions are priceless, especially when she's riding on the stack of mail. Bond's illustrations are simple yet filled with tongue-in-cheek humor and detail. It's in the best spirit of children's book illustrating because each picture has something to capture and hold the attention of many different ages of children as well as adults. Numeroff captures this spirit as well. They entertain children while not patronizing them with pablum. Since this book is hilarious and literate it will probably join
If You Give a Mouse a Cookie
and
If you Give a Moose a Muffin
in becoming an instant classic. And chances are if a book is worthy of becoming an instant classic then you will need to remember this rule of thumb: always buy books for your children that you enjoy, too, because, of course, you will probably find yourself reading them over and over again. With delight!
--Nancy Littlejohn
---
More from Writers Write