Phantoms by Dean Koontz Review
Berkley, 1997.
432 pgs. ISBN: 0425162028
Mass market paperback.
Ordering information:
Amazon.com.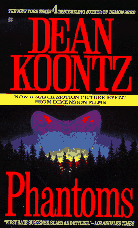 Phantoms
is a suspenseful horror tale of the horrible demise of small mountain community and the terrifying conclusions about what happened to it. Two residents of Snowfield return home to find a mysteriously quiet abandoned town and start searching for answers. When a Sheriff arrives and grotesquely bruised bodies are found tense feelings arise. The suspense grows as you begin to realize that whatever has taken care of the entire population of Snowfield may still be there. The danger in this twisting, feaful tale ends up being something that has been a terror throughout man's existence.
This is one of Koontz's top novels with strong characters and a well-developed story line. A tie-in to mass disappearances throughout history, such as the mysterious Roanoke colony disappearance, enhances the pull of the story. You will want to find out what causes these mass disappearances and why no one ever figured out what happened.
Phantoms
doesn't disappoint on any level; the town-killing problem in this novel is just as compelling as its associated mystery. Like the other Koontz novels there are plenty of horror chills and thrills along the way, making this novel a classic.
---
More from Writers Write
---