Out of the Dust by Karen Hesse Review
Scholastic, Oct., 1997.
Hardcover, 160 pages.
Reading Level: Ages 9-12.
ISBN: 0590360809.
Ordering information:
Amazon.com.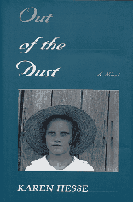 Billie Jo at fourteen is right smack dab in the middle of the Great Depression, the height of the Oklahoma dust bowl years, and her own struggle with adolescence. She is surrounded and immersed and choked and blinded by the omnipresent dust and the unrelenting wind. She's red haired, freckle-faced with a fondness for apples and as she says, a hunger for playing fierce piano. In fact, her only joy in life is playing the piano with gusto and abandon at the Palace Theatre with Mad Dog Craddock, Arley Wanderdale and the Black Mesa Boys. She loves it when folks sway in the aisles, grinning and stomping and snapping their fingers.
Unfortunately, this joy is destroyed all too quickly just like the wheat in the parched, drought stricken fields whenever a dust storm comes. Billie Jo's life is changed forever when her daddy leaves a pail of kerosene by the stove, and her ma, thinking it was water, lifts it to pour to make Daddy's coffee. Instead, she makes a rope of fire that explodes into the pail of kerosene. When Billie Jo's ma runs out to get Daddy, Billy Jo picks up that burning pail of kerosene to try to save their house and throws the fire out the door onto her ma who becomes a column of fire. Billie Jo desperately tries to beat out the flames with her hands but it does no good. Billie Jo's precious piano playing hands get burned almost beyond recognition, and her ma dies in a matter of days along with the baby boy she was carrying. Now Billy Jo must cope with her grief and guilt along with the dust and the wind. Her daddy becomes distant and of no help as he tries to deal with his wife and newborn son's death along with the death of his farm from drought and dust and wind. Eventually, after a brief stint as a runaway, both Billy Jo and her daddy come to realize how much they are alike and how much they need each other. In Billie Jo's words, "Ma had been like a tumbleweed holding on for as long as she could, then blowing away on the wind. My father was more like the sod. Steady, silent, and deep. Holding onto life, with reserves underneath to sustain him, and me, and anyone else who came near. My father stayed rooted, even with my tests and my temper, even with the double sorrow of his grief and my own, he had kept a home."
This book is one that begs to be read aloud. In fact it almost must be read aloud to grasp the true rhythm and beauty of Karen Hesse's free verse poems spoken in the first person by Billie Jo. The eloquence, the pain, the struggle, the fear, the rebelliousness of Billie Jo are captured so well by this narrative device. It is not a poetry book. It is a novel that just happens to be written as a series of poems about Billie Jo's life. Noting the recurring imagery of fire, red, dust and wind are critical to deeper understanding of this book. In fact, many of the poems carry the rhythm of the wind, its' howling force made evident. Also, Billie Jo's fierce piano playing rhythm is in several of the verses. It is all a part of the exquisite whole. As Billie Jo says, "And I know now that all the time I was trying to get out of the dust, the fact is, what I am, I am because of the dust. And what I am is good enough. Even for me."
This is a book that will stay with me forever. Billie Jo taught me many lessons that all of us need to learn. " The way I see it, hard times aren't only about money, or drought, or dust. Hard times are about losing spirit, and hope, and what happens when dreams dry up." Eventually, Billie Jo realizes "that you can stay in one place and still grow." When her father meets a new, special woman named Louise, Billie Jo sees that hope and dreams and even fierce piano playing can return. As the book ends, Louise comes into the house bringing apples in a sack that she arranges in a bowl on the shelf. Billie Jo says, "Sometimes, while I'm at the piano, I catch her reflection in the mirror, standing in the kitchen, soft-eyed, while Daddy finishes chores, and I stretch my fingers over the keys and I play."
I think this book would make an excellent tool for beginning to teach concepts that are critical to understanding literature. There is so much symbolism, both of color and image not to mention foreshadowing, rhythmic patterns that reflect the action and free verse used to its' best advantage.
Just as I think Paul Zelinsky richly and rightly deserves the Caldecott Medal for
Rapunzel
, Karen Hesse richly and rightly deserves the Newbery Medal for the best children's book for
Out of the Dust
. Once again, it is not just a children's book. Everyone run, don't walk, to the nearest bookstore and buy this book for yourself. I think it will become a classic. By the way, make sure you have someone to read it to when you get home or maybe, just read it aloud for yourself.
-
Nancy Littlejohn
---
More from Writers Write