On Becoming Fearless by Arianna Huffington Review
Little, Brown, October, 2006
Hardcover, 230 pages
ISBN: 0316166812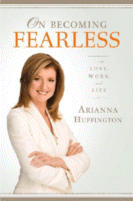 In her new book syndicated columnist and founder of The Huffington Post Arianna Huffington asks women to look at their fears and how they are holding them back in life. Semi-autobiographical, the book's mantra is that fear really is the only thing to fear in life. The book features essays from a number of accomplished women, such as Diane Keaton, Nora Ephron, and Sherry Lansing. Each of the essays focuses on being fearless in a certain area of life: parenting, love, work, money and aging.
Arianna reveals many of her own personal bouts with fear: as a frightened girl during the Greek civil war, as a frightened college student at Cambridge, as a frightened young mother and as a woman who faced her greatest fear: of living in a world without her beloved mother.
On Becoming Fearless
is an enlightening and inspiring book that provides interesting insights into how a number of successful women have faced their fears and gone on to do great things.
Ordering information:
Amazon.com
---
More from Writers Write