O is for Outlaw by Sue Grafton Review
Henry Holt, Oct., 1999.
Hardcover, 316 pages.
ISBN: 0805059555.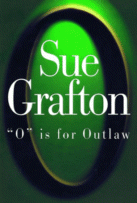 Kinsey Millhone has the toughest case of her life ahead of her: her own past. When a storage space scavenger calls wanting to know if she'd like to purchase a box of her personal belongings found in an abandoned storage space, Kinsey is shocked to discover that the belongings are really hers -- the remnants of what she left behind when she left ex-husband Mickey Magruder, 15 years ago. Kinsey split after Mickey was accused of murder and he asked her to fake an alibi for him. The accusation got Mickey thrown off the force, ruined his marriage, and pretty much destroyed what was left of his life. The box contains a real bombshell: a letter proving that Mickey really did have an alibi for the night in question. Although Mickey told Kinsey at the time that he was innocent of the beating of a suspect, she never quite believed him. Determined to find out the truth about what happened 15 years ago, Kinsey sets out to solve a murder case that a lot of people would rather not see reopened.
Although Kinsey Milhone has had an amazing number of adventures, throughout it all, her creator has remained relatively silent on the subject of our favorite p.i.'s past. O is for Outlaw is a fascinating foray into the life of Kinsey Milhone when she was young and impressionable. Grafton outdoes herself with beautiful, clean prose and characters that are so real and finely drawn you feel as if you're in the middle of the action. If you haven't read the fourteen Kinsey Milhone novels which have come before, don't worry. O is for Outlaw is a great jumping off spot into one of the best p.i. series ever written. As for Millhone fans -- it's Nirvana time. Highly Recommended.
--Claire E. White
Ordering information: Amazon.com.


---
More from Writers Write