Fantasy/SF Book Reviews
The Internet Writing Journal
,
November 2005
Poison Study by Maria V. Snyder
Luna Books, October, 2005
Hardcover, 361 pages
ISBN: 0373802307
Ordering information:
Amazon.com
|
Amazon.co.uk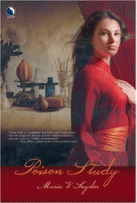 Young Yelena has had a very rough life. As an orphan, she was taken in by the powerful General Brazell and his son who abused her repeatedly. When she killed the general's son in self-defense, Yelena was sentenced to death. Just before she is executed, she is given a choice by the mysterious former assassin Valek: die or learn to become a food taster for the Commander of Ixia. Food tasters are necessary because subtle poisons are the favored methods of the many assassins who are trying to kill the Commander. Yelena chooses the life of a food taster and her training by Valek is most unpleasant. But she eventually learns how to spot poisons and be a successful taster. Although she would love to escape her new job, she can't. On her first day on the job, Valek gave her a nasty little poison and then the antidote. If she doesn't return every day for the antidote, she'll die. Valek is ruthless, but he is also surprisingly kind to Yelena. And when the General who despises her returns to court, Yelena will need all the allies she can get to survive.
Poison Study
is the imaginative debut by author Maria V. Snyder. Yelena is a complex heroine who has endured some terrible things in her young life. But she never gives up and her determination to live to see another day is admirable. But the handsome ex-assassin Valek is just as interesting as the heroine. Valek, a brilliant assassin who pledged his loyalty to the Commander after a coup dethroned the corrupt monarchy, is an enigmantic and compelling character. The fantasy world is well-imagined and Ms. Snyder skillfully integrates the magical elements of the story seamlessly into the plot. The ending sets up the next installment in this engaging new series which should develop a loyal following.
---
Urban Shaman by C. E. Murphy
Luna, June, 2005
Trade paperback, 480 pages
ISBN: 0373802234
Ordering information:
Amazon.com
|
Amazon.co.uk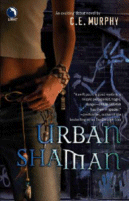 Seattle cop Joanne Walker is flying home to Seattle after her mother's funeral in Ireland. Part Irish and part Native American, she has latent shamanic powers, although she has no idea how to use them. She's never seen active police duty either, although she did graduate from the academy: mostly, she works as the station's mechanic, fixing all the cops' cars. As the plane is starting its final approach into Seattle, Joanne looks out the plane window and sees a young woman being chased by a man with a knife and what looks like a pack of rabid dogs. Despite the fact that the plane is moving too fast for Joanne to have seen much detail, she knows that the woman is in danger and that she must make the effort to help her. Determined to save the mysterious woman, Joanne hires a taxi and heads off to the church. She finds out that the woman is being chased by the Wild Hunt (from Celtic mythology) and that if she gets involved, she may be in way over her head. Naturally Joanne (whose birth name is Siobhan Walkingstick) decides to take on the Wild Hunt all by herself. And when bodies start turning up all over Seattle, she has a very short time to solve the case or she'll lose not only her job, but her life.
C.E. Murphy's makes a stunning debut with
Urban Shaman
, which is reminiscent of the early work of Laurell K. Hamilton. But Ms. Murphy's take on urban fantasy is solely her own creation: the mix of Celtic and Native American mysticism and myth makes for fascinating reading. Joanne is an interesting character, as are her friends: the elderly taxi driver who befriends her, her grumpy but attractive boss, and her colleague who also has his finger on the pulse of the paranormal in Seattle. The pace is blistering and the storyline really grabs the reader from the very first page. C.E. Murphy is a writer to watch.
---
Return to Book Reviews Index