Nonfiction Book Reviews
Page Two of Two
One Digital Day by Rick Smolan
Times Books, May 1998.
Hardcover, 223 pages.
ISBN: 0812930312.
Ordering information:
Amazon.com.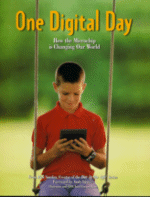 Beautiful photographs from photojournalists worldwide highlight this visual look at the microchip-laden world in which we live. The book features over 200 full-color photographs each taken on the same day, July, 11, 1997, by 100 of the world's most talented photojournalists, to show how the microchip has impacted our world. The impact of the microchip has been swift and far-reaching. As Intel Chairman Andy Grove states in his foreword in the book, "They change how existing products function and allow the creation of new ones. In the aggregate, they change how we live, how we work, how we entertain ourselves and how we are able to imagine -- and thus create -- the world our children will inherit." The book was produced by Rick Smolan, founder of Against All Odds, a company specializing in large-scale photographic projects and who created the prize-winning "Day in the Life" book series. Smolan sent the 100 journalists around the world to record how the microchip has affected entertainment, health, sports, business, education and other aspects of our daily lives. Photo editors then sorted through nearly 80,000 images to chose the final photographs used in the book.
One Digital Day
is a masterpiece of photojournalism that shows how quickly technology has infiltrated all aspects of our lives. It also gives hints at what the digital future will be like. A beautiful and thought-provoking book which will make a conversation piece for the coffee table.
---
The Uninvited by Nick Pope
Overlook, July 1998.
Hardcover, 316 pages.
ISBN: 0879518782.
Ordering information:
Amazon.com.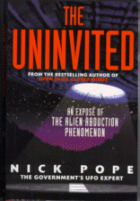 This look at the outbreak of alien abduction reportings by British Minister of Defense worker Nick Pope may soften even a skeptic's arguments. Pope provides accounts from reported abductions that he himself has investigated while on the job for the British government. His research has convinced him that there is more to many of these reportings than mere delusion on the part of the abductees. The book provides an overview of alien abduction and includes unsolved cases, abduction theories and discussions of prior research into the phenomenon.
Pope, author of the popular
Open Skies, Closed Minds
, provides another thought-provoking tome on the subject of alien abductions with
The Uninvited
. Known as the real-life equivalent of the
X-Files'
Fox Mulder, Pope writes with authority because of his work for the British Government's Ministry of Defense investigating UFO sightings. About the unsolved cases of alien abduction Pope writes, "If they were true -- if just
one case
was true -- the implications for the human race would be profound and disturbing." And, according to Pope, who went in a skeptic and came out a believer, the truth is out there -- and it's quite disturbing.
---
Non-Fiction Reviews
Page One

Return to Book Reviews Index




---
More from Writers Write