Nonfiction Book Reviews
Page Three of Four
The Message of St. Francis
Penguin Studio, March 1999.
Paperback, 57 pages.
ISBN: 0670883646.
Ordering information:
Amazon.com.
The Message of St. Francis
is a book for those who love holding a fine book in their hands and turning its pages. Printed in Italy on heavy paper with a flat surface, the very texture of the pages gives the reader the sensation of standing in front of the frescoes as they exist today in the basilica in Assisi. Sometimes superimposed on top of the printing of the frescoes and at other times opposite, the effect of the words of St. Francis is powerful. Unlike many art books which are clearly good only for reference or to be displayed on the coffee table, this book is thin, and can accompany one anywhere.
Most of us know that St. Francis taught us about the significance of the Christmas scene by putting together the first creche, and we also know that his statue is often placed in the garden because he preached to the birds. However, St. Francis also believed strongly that there were angels among us who should be given recognition. For those who have climbed the spiritual as well as the physical heights of Assisi
The Message of St. Francis
will bring back vivid memories of that steep journey. Clearly a spiritual place, Assisi looks down upon the plains of Umbria and never ceases to evoke strong feelings.
This little book would make a cherished gift for an art lover, a bibliophile or a person with a deep spiritual life. It is a book to be enjoyed on many levels.
Most of us have at some time come across the famous prayer of St. Francis. This book will more thoroughly acquaint the reader with St. Francis' thoughts on other matters.
--Sarah Reaves White
---
The New Encyclopedia of Modern Bodybuilding by Arnold Schwarzenegger
Simon & Schuster, December 1998.
Hardcover, 800 pages.
ISBN: 0684843749.
Ordering information:
Amazon.com.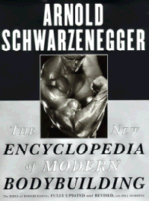 Seven-time Mr. Olympia and celebrity Arnold Schwarzenegger provides a weighty tome of valuable information in this superb bodybuilding reference. The reference provides information on bodybuilding nutrition, health and exercises including example workouts, charts and photographs illustrating proper technique. The book also provides a history of bodybuilding, information on posing and insights of other well-known bodybuilders. Topics covered in the book include: evolution and history, the basics, the gym, basic training principles, body types, training programs, mind over matter, exercises for different parts of the body, posing, competition strategy, nutrition, diet weight control, dieting for contests and injuries. Especially valuable is the 300 page body parts exercise section which provides information and illustrations for numerous exercises that concentrate on developing specific muscles.
The New Encyclopedia of Modern Bodybuilding
is a must-own reference for professional bodybuilders, and for weekend warriors who use the gym just to stay in shape.
---
Nonfiction Reviews
Page One
|
Page Two
|
Page Three
|
Page Four
Return to Book Reviews Index
---
More from Writers Write