Nonfiction Book Reviews
All You Need to Know About the Music Business by Donald S. Passman
Simon & Schuster, October 2000.
Hardcover, 447 pages.
ISBN: 0684870649.
Ordering information:
Amazon.com.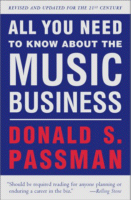 For those interested in the music business, this reference covers all the bases. Novices to the music business will be surprised by the unusual laws, regulations and bizarre deals which are commonplace in the music industry. The book is organized into nine parts. It includes sections covering working with experts and advisors (such as personal managers and agents), record deals, song writing and publishing, music groups, concerts and touring, merchandising, classical music, motion pictures and the Internet. The Internet section includes information about online promotion, piracy, changing copyright laws, digital downloads, MP3s and other hot topics in the digital music industry. The author excels at describing the legal and financial aspects of the music business. The book explains legal contracts and terms, explains how the contracts work and why are they are worded the way they are -- in terms that non-lawyers can appreciate. This reference also helps readers understand how money is moved around the music business and gives amounts, charts and graphs, in addition to straight-forward explanations.
Lawyer and advisor Donald Passman provides everything you need to know about the inner workings of the music industry, including financials, agents, merchandising, copyright, publicity, production, distribution and legalese. This is the fourth edition of Passman's valuable music industry handbook, which includes updated information and new coverage of the Internet and digital music delivery. Great reading and solid reference information for those considering a music-related career, business or investment, make this music industry guide a winner.
---
The Art of Spelling: The Madness and the Method by Marilyn Vos Savant
W.W. Norton, August 2000.
Hardcover, 204 pages.
ISBN: 0393049035.
Ordering information:
Amazon.com.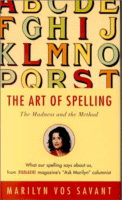 The Art of Spelling
offers advice for readers to improve their spelling, as well as interesting historical anecdotes and puzzles related to the subject. Marilyn Vos Savant also provides insight to the psychology behind spelling and supplies personality portraits of different types of spelling. She also offers evidence that indicates that some poor spellers are actually very bright people. The book also provides ample advice and tricks for improving your spelling, including the secrets of good spellers, diagnostic tests, explanations about roots, prefixes, and suffixes, mnemonic devices and a list of commonly misspelled words. Vos Savant also provides an interesting discussion of spelling tools (such as spell checkers) and where they go wrong.
Author Marilyn Vos Savant is a genius, with the highest tested intelligence quotient score of 228 according to
The Guinness Book of Records
. In addition to writing reference books, she also pens a weekly column for
Parade
magazine, in which she provides complex puzzles and gives answers to difficult questions sent in by readers.
The Art of Spelling
will be of great interest to writers, editors, English teachers and those who love a good word puzzle.
---
---
Healthy Jewish Cooking by Steven Raichlen
Viking, September 2000.
Hardcover, 194 pages.
ISBN: 0670893129.
Ordering information:
Amazon.com.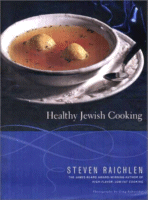 Healthy Jewish Cooking
contains recipes and cooking instructions for cooking low-fat varieties of rich, tasty Jewish foods. The book helps readers learn to replace high fat foods (such as sour cream, eggs, butter and cheeses) with acceptable non-fat replacements. Some of the delicious recipes included in the cookbook include: spinach turnovers, beef empanadas, pirogis, grilled vegetable spread, grandmother's chicken noodle soup, dumplings, green onion salad, pita bread, potato blintzes, chicken knishes, gefilte fish, matzo meal pancakes, wine country brisket, garlic creamed spinach, apple sauce and apple strudel. Each recipe includes an ingredient list, detailed cooking instructions and nutritional information, including calories and fat grams. The book also includes some beautiful full-color photographs of some of the foods.
James Beard award-winning author Steven Raichlen is back again with another excellent cookbook. This time, he provides delicious and healthy Jewish recipes, many of which he was introduced to as a child. Raichlen has also authored
Steven Raichlen's High-Flavor, Low-Fat Mexican Cooking, High-Flavor, Low-Fat Italian Cooking
and the
Barbecue! Bible
, which are also top-notch cooking references that feature different cooking styles. Raichlen's tips and suggestions are very informative, and help readers learn how to make healthier food and to understand food preparation skills, rather than just learn how to make a specific recipe. His commandments of healthy Jewish cooking are especially helpful. Readers will also love the personal anecdotes Riachlen adds to each recipe. The recipes in this book are truly delicious delicious, and will appeal to anyone who loves good Jewish cooking.
---
Return to Book Reviews Index
---
More from Writers Write