No Remorse by James D. Brewer Review
Walker, 1997.
ISBN: 0802733026
Hardcover.
Amazon.com.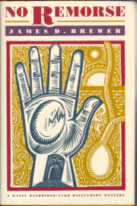 It's 1873 and riverboat Captain and reluctant part-owner of the Big River Detective Agency Luke Williamson is not happy. What ever made him decide to form a detective agency with former Confederate soldier Masey Baldridge and former lady of the evening Sally Tyner? Unsure whether or not he should just stick to what he knows best - the river - and bail out on his much-inebriated partner Baldridge, Williamson puts his doubts aside when a hated business rival turns up dead, his son calmly confesses to the murder and his rival's widow begs him to take the case to prove that her son is innocent. What seems to be an open and shut cases quickly turns into an intriguing puzzle as no one in the dead man's family appears to be what he or she seems to be, the self-confessed murderer is suffering from a mysterious illness and Voodoo-cursed objects begin showing up in Williamson's cabin.
No Remorse
is the fourth book in James Brewer's series featuring Williamson, Baldridge and Tyner in one of the most unusual detective teams in mystery fiction. The Reconstruction setting adds a fascinating flavor to this well-researched who-done-it. The pace is lively, the writing is crisp and entertaining, and the characters are well-rounded and appealing. A real find for both mystery lovers and history lovers alike.
---
---
More from Writers Write
---