No Excess Baggage
by Hazel Edwards, Margaret Clark and Krista Bell
Travel by high-flying children's authors peaks during Library Week (May 15th-20th) and Children's Book Week (August 18th-25th), but they accumulate substantial frequent flyer points all year and are unusual business travellers. In this roundtable discussion, we listened in on what three of Australia's most popular children's authors, Hazel Edwards, Margaret Clark and Krista Bell, had to say about the life of an author on the road.
Hazel Edwards
is the award-winning author of the popular series about the Cake-Eating Hippo,
The Frequent Flyer Twins
and the Young Adult thriller
Stalker
(Lothian Books). Margaret Clark, under the pen name Lee Striker is the author of the popular "Hair Raiser" young adult horror series, published by Random House;
Krista Bell
is the author of the popular
Top Shot
series and
Read My Mind
(Lothian Books).
In recent months, Geelong-based author Margaret Clark, who writes for children and teenagers, has visited the literary festival at Somerset College,(Q), a contrast to outback Roma in Queensland.

She has visited Alice Spring (N.T.) and the Hart Ranges for an aboriginal desert writing camp, jetted to Darwin for Nestles Write-Around Australia workshops, to W.A. for a residential at the old Fremantle Jail, visited Canberra, Tasmania, and flown on various small planes to offshore islands.
This trio of authors has published, separately, over 200 books.
A typical in-flight conversation for these authors usually goes something like this:
"What business are you in?"
"Writing. I'm an author. I mainly write books for children."
"Oh. Didn't my daughter read one of your books? And I heard you on the radio..."
"Possibly."
In the word-smithing business, an author needs to travel, and talk. Authoring is not just about writing, it's about promoting -- speaker circuits, school visits, festivals, interviews. And of course, research requires frequent travel. Laptops, modems and email mean writers can work anywhere.
Authors-in-transit are unusual frequent flyers. Millions of children read their books or listen to audio stories. Fans expect enthusiasm, not a grumpy author-speaker, so travelling light and arriving sparking, regardless of kilometres flown or climate changes, is important.
Margaret has frequent flying points to pass onto other business travellers. "In the Longterm Carpark, I always park at terminal 6, the furtherest. Most people herd in the areas of 3,4 and 5. I can usually park right opposite the terminal, saving time and energy hauling luggage, and also there's no stress trying to remember where I parked the car."
Question: As experienced business travellers, what specific challenges do authors-in transit face?
Krista:
Embarrassment is one.
Hazel Edwards, author of There's a Hippopotamus on Our Roof Eating Cake has flown to Hippo-Playfests nationally to celebrate the 21st birthday of her cake-eating hippo fantasy character. Other reasons for flying vary from conducting Writing Non Boring Family History workshops for "genies" (genealogists) to a stint as Varuna's literary mentor in the Blue Mountains. In recent years, her books have been translated and subsequent invitations to speak in France, USA, UK, China, Nepal and Canada have meant more flying.

Reviewer, author and broadcaster, Krista Bell includes Queensland, South Australia, Broken Hill, Tasmania, Mildura, Albury and Portland amongst her recent speaking tours.
Hazel:
Most business travellers carry-on suitbags or briefcases as hand luggage to save time on arrival. But an author, like me, may need a trolley to collect book-character props like an enormous cake-eating hippo which goes round and round "naked" on the carousel. At least "hippo" counts as a "tool of trade" rather than excess baggage.
Krista:
Gifts can be a challenge too.
Margaret:
A school gave me a bottle of wine which broke in transit, so for the rest of the tour I smelt like an alcoholic. Another time, a huge cake of promotional chocolate from the launch of my book
The Big Chocolate Bar
melted over my expensive white linen suit in my case.
Hazel:
Large bunches of flowers (fresh or dried), giant cards signed by whole schools or boxes of letters take up overhead space, and you're given them just as you're leaving. Asian hosts believe gift exchanges are mandatory, so you have to oblige.
On Author-Minders:
Hazel:
Often, a "minder" (or media escort) is provided by a publisher or local arts organisation to drive, locate venues and handle interviews. Male minders escorting female authors are often mistaken for husbands, or the author is assumed to be the secretary.
Margaret:
I think a minder is akin to God, and I droop with relief when one meets me at an airport, grabs my luggage and takes control. A minder means that I can conserve energy for my fans and concentrate on giving my best performance up on stage. Meeting a favourite author can influence children and teenagers for the rest of their lives, so every smile has to be special, every name remembered -- no easy task. Children are my clients.
On Being Recognized:
Hazel:
Travelling incognito is difficult. Children's authors are more often recognised than adult novelists because every schoolchild has told their parents, who run facilities such as the motel, the airport desk or the restaurant. In a short news town, an author visiting a school is likely to be front page or screened on the 6:00 pm television news.
Margaret:
I went to the lavatory on board, returned to my seat and suddenly there I was on the inflight video being interviewed for my
Hair Raisers
series. I was embarrassed and yet proud when all these passengers actually started clapping and cheering.
On Bonuses: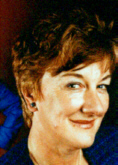 Hazel Edwards
Hazel:
During stop-overs, authors may be taken "behind the scenes" in the cockpit or airfield as "research". This is a bonus. Flight delays can be used productively as people-watching research My mystery series
The Frequent Flyer Twins
is based on U.M.s (Unaccompanied Minors)and much was researched and written in airports on a laptop.
Margaret:
I worked out the plot for my
Hair Raiser
book
Humans for Breakfast
at the Adelaide airport one night, by asking myself "What if the power went off?"
Krista:
Most authors are usually tuned in to notice people and their behaviours, environments and odd occurrences which often go un-noticed by others. We're professional stickybeaks (
nosy people
).
Writers need to be able to answer awkward and sometimes personal questions. What other business person is asked, "How much money do you make?" Or, "How come you can write about kids my age when you're really old?"
Question: How do you juggle time for family on extended tours?
Margaret:
My daughter (age 28) often says, "My friends are trying to
lose
their mothers: I'm trying to
find
mine." I don't think I could have juggled a young family and travelling as Krista does.
Krista Bell
Krista:
I began travelling the author-speaker circuit when the youngest of my three sons was four. Back then, it was tough leaving husband and kids to cope alone for a week up to six times a year. A detailed schedule of "who goes where, when with whom and takes what" had to be drawn up for each boy. Unlike single or male business travellers it wasn't just packing the briefcase, getting the taxi and going. The mental excess baggage included being available on tour and handling domestic crises and even helping with homework via mobile or fax. Eight years later the independence training has paid off. The boys cook hearty meals for each other and even provide a "welcome home Krista" meal in an almost tidy house.
Hazel:
The mobile phone is brilliant, except when I'm out of range.
Question: How do you adjust inflight or in-transit?
Hazel:
Sleep anywhere, especially in-flight. Author accommodation varies from five star hotels to the SPQ (Single Person's Quarters) of Mt. Newman BHP's desert mining town. Generally arts hosts offer "converted" intriguing accommodation like ex-convents or museums liable to appeal to authors' imaginations. Ghosts are an optional extra.
Literary dinners usually mean answering FAQs about writing and not eating. In-flight, it's best to eat vegetarian and drink plenty of water. Read business magazines or ask travelling companions about their occupations. Stickybeaking is research sometimes. A bonus was talking with an electronic surveillance expert, just at the time I needed to find out background for my
Stalker
novel. I maybe correcting proofs or editing the next manuscript while on tour.
Krista:
I miss the family noises when I'm on tour, but I put in 400% so I'm exhausted at the end of eachday and just want somewhere clean and quiet, so I can "veg" out and revitalise for the next day. I love to meet the locals too -- it's great research.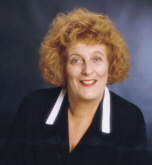 Margaret Clark
Margaret:
Often males like to be billeted with a family, but most female authors including myself prefer a motel with room service so they can write, and enjoy the solitude of being temporarily away from juggling a family. I wrote
Fat Chance
when I was on tour, 35,000 words in a fortnight, on my laptop.
Another travelling author persuaded me to join the airline club and it makes transit life so much easier in airports. The ticketing is quicker, luggage goes priority, and when I'm dozing off in an armchair, there's always a reminder call to the departure lounge, so there's less tension.
Question: Any problems travelling on your own as a woman?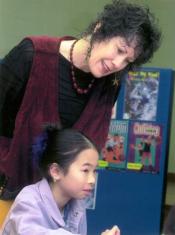 Krista Bell and Student
Margaret:
Well, there's the marauding male I might meet on the plane who'd like a deep and meaningful one night relationship, but usually once I've collected my luggage I get whisked away by a minder, so it isn't a problem. I seldom dine alone in the motel/hotel restaurant, and if I do, I usually read a book, which sends out signals that I do not wish to be disturbed.
Krista:
Anyone who talks as much about her husband and boys as much as I do, has no trouble, except boring the listener.
Hazel:
Displaying a wedding ring and carrying "family photos" in traditional countries, fends off those who assume that a woman alone is available.
Question: On tour, how do you maintain your business?
Hazel:
With planning. An author is a one person business, even if you have an agent. So keeping up to date with emails and administrivia while you're on tour, especially in remote locations is important. I email from airport kiosks, use the mobile or phone cards and allow for time zone differences. Internet access is brilliant. I have to keep in contact with publishers, my agent and co-writers.
Krista:
Limiting myself to one week tours. It takes at least a day to prepare and another to follow up on long trips. I work like crazy before I go, to meet any deadlines, so I can travel without extra stress.
Question: What are your best and worst airport experiences?
Margaret:
My best airport experience was being the only passenger in First Class when the engine broke down in Bombay and I got to stay at the poshest hotel in India for 24 hours. My worst airport experience was when I boarded the wrong plane. Don't ask, I know it can't happen, but it
did
.
Hazel:
Due to a family emergency, being dropped in a hurry at the airport by my daughter who sped off, with my handbag containing my tickets, money, credits cards etc on the backseat. Airstaff accepted the photo on the back of my book as ID to issue a replacement ticket and sent my bag on by the later Tasmanian flight once my daughter realised what had happened.
Krista:
On a flight to Broken Hill, I failed to realise it was on a "firstcome-best seat" basis and ended up squashed in the back corner of a tiny plane with no head room. Not good for a claustrophobic.
Question: What are the challenges of being a 24 hour per day writer-in-residence at an isolated location such as an island or an ex-prison?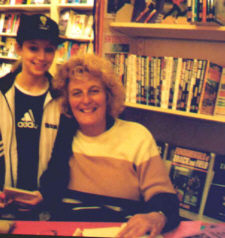 Margaret Clark and Fan
Margaret:
Part of the old Fremantle jail is beautifully established as a youth literature centre, but it's weird being locked in behind those thick, grim walls and at night having doors open and shut on their own and hearing peculiar bangings and sighings. I loved the atmosphere, but I also loved the company of the other two writers who were in residence there, too, as I was convinced that I couldn't stay there alone for three nights. But maybe next time...
Hazel:
I stayed in Freo Jail alone, in a barred bedroom cell. For a writer with an over-active imagination, that's a memorable experience. Trying to run "cluey" but non-violent writing workshops when the gallows were just down the hallway, was a challenge.
Krista:
Twice a year, I run live-in literary camps for authors, students and teachers in country Victoria. I know how valuable quiet time is for authors to re-energise and perform at their best, so I use the isolation of the setting to maximum effect, encouraging time out in the peaceful bush setting.
Question: What do you carry on tour?
Hazel:
Recharger for mobile phone, PR data disk to use in host's computer. Book covers (lighter than books). See-through folders, colour coded per booktalk. Headed notepaper (with website) is useful for scribbling thank you notes or replies between flights, and posting in the airport. Picture books "travel" well across language barriers. Business cards.
In an overnight bag, scarves or jewellery change the look of my one colour, 4 piece drip-dry outfit, especially if photographed frequently with reader fans. Runners and bathers for daily exercise. Bananas for instant energy and vitamins for long-term stamina.
Margaret:
I'm notoriously absent-minded, often thinking of my next plot and not concentrating, so the challenge is not to forget anything. I arrive at the airport early, park the car, and juggle a suitcase crammed with clothes and books, a large show-case portfolio, lap-top and briefcase to the check-in, so I always think "FOUR THINGS. Have I got all four?" because to forget any would be a disaster.
Another challenge is that I might be in Hobart then flying straight to Darwin, so the trick is to get clothes that mix and match and don't crush. I have to pack something formal for an evening speaking engagement, something warm but casual for drafty school halls, something cool for a hot climate, trendy for TV, and something more dignified for signing books.
Another challenge is finding good coffee in some out-of the way motels, so my coffee plunger and ground coffee is a
must
in my suit case. I also carry a piece of dowel about 18 inches long to put in the sliding track of a motel window so I can have fresh air but intruders can't slide back the window.
Krista:
Examples of various stages of the production of a book to show audiences: illustrations, drafts, galleys etc. Bookmarks for autographing, and publicity photos. I also have blow up photos of my kids and pets to show young readers where story inspirations came from. Luckily, an author's weighty imagination is not considered excess baggage!
---
More from Writers Write