Night Bites by Nina Bangs Review
LoveSpell, March, 2005
Paperback, 339 pages
ISBN: 050552614X
Ordering information:
Subgenre: Paranormal
Amazon.com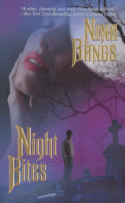 In
Master of Ecstasy
, readers met supernatural time travelers Ganymede and Sparkle Stardust who are now up to their old tricks again. Sparkle, who loves to meddle in humans' affairs of the heart and Ganymede, who is trapped in the body of a cat for this adventure, decide to visit the Woo Woo Inn in New Jersey. The Inn is owned by Cindy Harper, who adores ice cream and entertaining her supernatural and human guests. She has her work cut out for her, ensuring that her human guests who are only playing at being supernatural don't get left alone with any hungry vampires or werewolves. Cindy is 1500 years old, although she doesn't look a day over 25. And she's sworn off men for the time being. So when handsome vampire Thrain Davis shows up to tell Cindy about her long-lost family and explain her mysterious longevity, naturally Sparkle has to interfere. A lot. Oh, and there's another problem. Cindy really doesn't like vampires.
Whenever Nina Bangs puts pen to paper -- or hands to keyboard, as the case may be -- readers are in for a treat. There really aren't any other romance books like the ones that Nina Bangs writes. If you can set aside your rational, logical, "to do list" mindset and enjoy the fantasy, Nina Bangs will take you to a world that is absolutely delightful. It's impossible to be depressed while reading one of her books. Be prepared for a wild, sexy and laugh out loud funny story.
---
More from Writers Write