Neverwhere by Neil Gaiman Review
Avon, November 1998.
Paperback, 388 pages.
ISBN: 0380789019.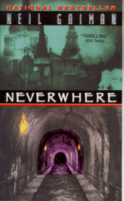 Richard Mayhew came to London to make his fortune. He lands a job as a stockbroker, but he doesn't seem to be making much progress. His beautiful but cold fiancee Jessica is always pushing him to better himself, and, a kind fellow, he feels lucky to have her. One evening while on his way to a dinner with Jessica to meet her wealthy and influential boss, Richard nearly trips over a young woman who is bleeding from a switchblade wound. Over the loud protests of his outraged fiancee, Richard takes the woman home and cares for her. Her name is Door, and she disappears after she recovers somewhat. After Door's disappearance, Richard's life goes straight to Hell. He meets two grim and frightening personages who are looking for Door, then finds that no one can see or hear him in the normal world. He has fallen through the cracks into London Below -- a strange, magical and altogether frightening place which he must navigate in order to get his life back.
Neverwhere is an absolutely thrilling and brilliant dark fantasy novel from Neil Gaimon, author of the popular Sandman series. The world of London Below is peopled with a colorful and sometimes frightening characters, both human and not. The dialogue is crisp, witty and funny, the literary references fly thick and fast, with nods to outstanding authors from Charles Dickens to Douglas Adams, and the pace is breathtaking. An absolute gem.
- Claire White
Ordering information: Amazon.com.


---
More from Writers Write