Mystery/Thriller Book Reviews
Page One of Three
Blood is the Sky by Steve Hamilton
St. Martin's Minotaur, June, 2003
Hardcover, 304 pages
ISBN: 0312301154
Ordering information:
Amazon.com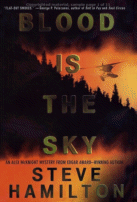 Ex-cop Alex McKnight has moved to Michigan's Upper Peninsula to try to forget his past. His law enforcement career was ended by a bullet and his marriage was also a casualty. Alex agrees to help his friend, Vinnie Red Sky LeBlanc, a member of the Ojibway Indian tribe (and no, they don't like the term "Native American"). Vinnie's brother has always been a troublemaker, but now he's out on parole, and is supposed to be turning his life around. After signing on to be a hunting guide for a group of wealthy men, Vinnie is now missing, along with the hunters. The hunting party was heading to Canada, although the terms of Vinnie's parole do not allow him to leave the country. The group was last seen flying off to an isolated island. But the owners of the hunting lodge seem very unhelpful when Vinnie and Alex question them, and soon they are embroiled in a dark story of revenge for a crime committed long ago.
Edgar-winning author Steve Hamilton takes readers on a gripping, moving adventure with his latest novel. The quiet, remote beauty of the Canadian wilderness is the perfect backdrop for this story of friendship and revenge. Alex McKnight is a man driven by demons from his past who has isolated himself from people. But he is pulled back into the land of the living by his friendship with Vinnie. Peopled with both eccentric and memorable characters,
Blood is the Sky
is a powerful and thought-provoking novel.
-- Claire E. White
---
Dirty Work by Stuart Woods
Putnam, April, 2003
Hardcover, 322 pages
ISBN: 0399149821
Ordering information:
Amazon.com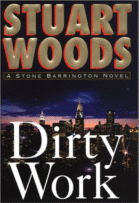 Dapper attorney Stone Barrington hates divorce cases -- they really are the dirty work of the legal profession. Bill Eggers of Woodman and Weld asks Stone to catch a client's husband in a compromising position. Stone is of counsel at Woodman and Weld, who sends Stone quite a bit of work, so he reluctantly agrees. But the photographer that Stone hires to catch the husband in the act sees the husband get murdered by a beautiful woman -- and then promptly falls through the skylight right into the middle of the murder scene. The killer turns out to be a world class assassin, Marie-Therese duBois, also known as La Biche. Stone's squeeze from the last book,
The Short Forever
, British agent Carpenter, arrives in town also looking for duBois, and -- with the help of local police detective Dino Bachetti -- the chase is on to find a killer.
Stone Barrington is as intelligent as he is suave -- he's never at a loss for words or falls apart in a crisis. He needs his sang-froid in this adventure, because the assassin Marie Therese DuBois is very good at her job. Barrington and Bachetti are a great team, and their dialogue is quite funny. The pacing is fast and the addition of British agent Carpenter is a definite plus. The ever-talented Stuart Woods just keeps turning out immensely entertaining books, and his latest is no exception.
---
Mystery/Thriller Reviews
Page One |
Page Two
|
Page Three
Click Here to Return to the Book Reviews Index
---
More from Writers Write
---