Mystery/Thriller Book Reviews
by Editor
Page Four of Four
Valley of the Shadow by Peter Tremayne
St. Martin's Minotaur, March 2000.
Hardcover, 269 pages.
ISBN: 0312209398.
Ordering information:
Amazon.com.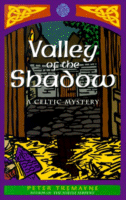 In A.D. 666 Ireland, Sister Fidelma is both a religieuse and a daláigh of the Irish courts, which is a bit like a French examining magistrate. Fidelma's brother, Colgú of Cashel, the king of Muman, sends Fidelma and Brother Eadulf to the hidden valley of Gleann Geis on a diplomatic mission. The people of Gleann Geis are mostly Druids, but have agreed to allow the building of a Christian church. Near the valley, Fidelma and Eadulf come upon the site of a grisly ritual murder of thirty-three young men, whose bodies are arrayed in a circle. The chieftain of Gleann Geis, Laisre, seems reluctant for Fidelma to investigate the slayings. When Brother Solin, the obnoxious secretary to the bishop of Imleach's northern rival, is found slain Fidelma is the chief suspect. Fidelma and Eadulf have their work cut out for them -- they must clear Fidelma's name and solve the riddle of the murdered men before it's too late.
Sister Fidelma's latest adventure further develops the theme of the historical struggle between the older, pagan beliefs of Ireland with the newer beliefs of Christianity, as well as the struggles between the more liberal teachings of the Irish Catholic church and those of Rome. Peter Tremayne (the pseudonym of famed Celtic expert Peter Beresford Ellis) does a brilliant job of integrating his detailed knowledge of the period into an absorbing mystery novel. Fidelma is intelligent, courageous and outspoken, yet sometimes her inner doubts and feelings slip through, making her a compelling character. With intrigue, assassinations, political maneuverings and a high body count,
Valley of the Shadow
has enough action and adventure to rival any modern day detective story. History buffs and lovers of a tightly-written mystery puzzle will definitely want to pick up a copy of Peter Tremayne's latest offering.
---
Click Here to Return to the Book Reviews Index
---
More from Writers Write
---