Mystery/Thriller Book Reviews
The Internet Writing Journal
Page Two of Two
Dark Alchemy by Sarah Lovett
Simon and Schuster, March, 2003
Hardcover, 304 pages
ISBN: 0684855992
Ordering information:
Amazon.com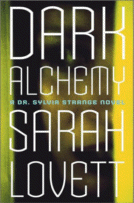 Forensic psychologist Dr. Sylvia Strange is approached by FBI counter-terrorism expert Edmond Sweetheart to assist in the case of a suspected woman poisoner. The subject of the investigation is Dr. Christine Palmer, the world's foremost expert in the area of neurotoxins, which are deadly bioweapons. Dr. Palmer works for the Department of Defense on a top secret research project. Although there is no evidence against her, Dr. Palmer's father, fiancé and colleague have all died mysterious deaths. Dr. Palmer is beautiful, brilliant and incredibly egotistical, but it is far from clear if she is a poisoner. Silvia puts her wedding plans on hold in order to create a psychological profile of the killer, which causes a major strain between her and her fiancé. As Sylvia gets more involved with the case, it becomes clear that she is up against a formidable adversary -- and that her own life is in considerable danger.
Dr. Sylvia Strange has her work cut out for her in her latest outing. Dr. Christine Palmer is one of the most interesting characters to come along in a long time. Beautiful, brilliant and icily cold, she leaves the reader wondering to the very end whether she's a poisoner or just a pawn in someone else's game. Ms. Lovett is an expert at creating a disturbing atmosphere of suspense, and the background of the world of neurotoxins -- where scientists work long hours in order to perfect poisons to kill the maximum number of people -- is as chilling as it is timely. Dr. Sylvia Strange is a compelling and complex character, whose personal life suffers at times because of her gruesome job. This is an emotionally rich series with so much spine-tingling suspense that it will keep you reading well into the night.
--Claire E. White
---
Persuader by Lee Child
Bantam, April, 2003
Hardcover, 395 pages
ISBN: 0593046897
Ordering information:
Amazon.com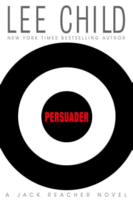 Jack Reacher, the enigmatic ex-MP, is back in a riveting thriller. In the shocking opening chapter, Reacher rescues a young college student, Richard Beck, from an attempted kidnapping. Beck is grateful and asks Reacher to drive him to his father's house. Reacher reluctantly agrees and ends up at the home of a notorious criminal who is being investigated by the feds who think Beck is a drug kingpin. But all is not as it seems in this set up. Soon Reacher is ensconced in the strange Beck household, which is set in an isolated part of Maine. Reacher is in a very tenuous position at the Beck household: the bodyguards are vicious and delight in torturing both Reacher and Mrs. Beck. But Reacher is determined to stay: he's on the trail of a traitor who sold U.S. secrets to terrorists and brutally murdered Reacher's young protege. Reacher thought he saw the turncoat Quinn die years ago, but now he's resurfaced, apparently alive and well. And Reacher is determined to bring him to justice, once and for all.
Jack Reacher is the kind of hero that we don't really see in contemporary thrillers much today. Enigmatic and intelligent, Reacher is a compelling hero who doesn't say much, but thinks quite a bit. Lee Child doesn't give much away about Reacher's background; but in this book, we get more of his very interesting backstory. Tautly written, with smooth prose and a compelling hero, this is a must-have series for fans of the well-written thriller.
--Claire E. White
---
Small Town by Lawrence Block
William Morrow, January, 2003
Hardcover, 464 pages
ISBN: 0060011904
Ordering information:
Amazon.com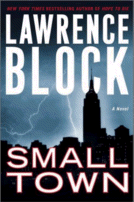 The events of 9/11 had different effects on different people. But one thing is for sure; New York and New Yorkers will never be the same. Now bestselling author Lawrence Block tackles the subject of 9/11 in a rare, stand-alone novel, with powerful results. A man who lost most of his family when the Twin Towers collapsed finally snaps and begins a serial killing spree which he believes will enable New York to rise phoenix-like from the ashes of its destruction. His victims have no connection to one another, which baffles the police. When Manhattan real estate agent Marilyn Fairchild is murdered, mid-list author John Creighton becomes the prime suspect, because he was in the wrong place in the wrong time. An acquaintance of Fairchild, beautiful art dealer Susan Pomerance, embarks on a voyage of sexual exploration, and a former police commissioner toying with a political run decides that he might be able to catch the serial killer that the press has now named "The Carpenter".
Small Town
follows the lives of these and other characters, who are all connected by the threads of murder, desire and desperation.
For readers of Lawrence Block's lighthearted Bernie Rhodenbarr series,
Small Town
is going to be a bit of a shock, with its numerous graphic, kinky sex scenes. But for his more adventuresome readers,
Small Town
will strike a nerve with its raw emotion, sly satire and powerful storytelling.
--Claire E. White
---
Mystery/Thriller Reviews
Page One
|
Page Two
Click Here to Return to the Book Reviews Index