Mystery/Thriller Book Reviews
Page One of Four
The Brethren by John Grisham
Doubleday, February 2000.
Hardcover, 366 pages.
ISBN: 0385497466.
Ordering information:
Amazon.com.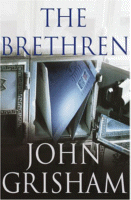 Three ex-judges locked up in a federal prison are running a mail scam with the help of a dirty lawyer on the outside. The judges, known as the Brethren to their fellow prisoners, begin to reap big profits from the scam, which involves placing small ads in the back of gay magazines. The Brethren pretend to be young gay men seeking lovers and then turn the tables on any victims who look like they have something to hide and demand money in order for them to keep their victims' secret gay lives quiet. However, the profitable scam suddenly turns dangerous when they ensnare a high-profile politician who is funded by the CIA.
John Grisham, bestselling author of
The Firm, The Pelican Brief
and
The Rainmaker
, shows why he is one of the top authors in the country with this latest thriller. The three judges in federal prison are fascinating and inventive characters as is Teddy Maynard, the crippled mastermind and CIA director. Grisham also pokes a little fun at politics and big money presidential political campaigns. Grisham is a master of well-developed plots and this one will have you reading feverishly into the night to find out what happens next.
---
Evan Help Us by Rhys Bowen
Berkley, Dec., 1999
Paperback, 209 pages.
ISBN: 0425172619.
Ordering information:
Amazon.com.
In the tiny village of Llanfair, Wales, Constable Evan Evans has his hands full. After celebrating his find of what he believes to be some ancient ruins, Colonel Arbuthnot meets with foul play on the way home from the pub. Then, returning native son Ted Morgan is found murdered, just after announcing at the town meeting his plans for a horrific sounding Disneyland-type theme park which would tower over the charming Welsh town. When Evans the Meat (the Butcher, to distinguish him from the dairyman, Evans the Milk) is arrested for that murder, Constable Evans springs into action to find the real killer. His investigation is hampered by the attentions of the attractive new widow in town, Annie Pigeon, and the ensuing chilliness of his close friend, the blond schoolteacher. But Evans and Sergeant Watkins find clues during their trip to London, and head back to Wales for the final denouement.
Llanfair is a charming village with quaint, sometimes cantankerous inhabitants who will soon seem like old friends. Constable Evans' matchmaking landlady, the outspoken Evans the Meat, the mailman who reads the inhabitants' mail (just a friendly peek) and of course Constable Evans himself, are all delightfully drawn characters and Evans' sleuthing is always entertaining. Those who enjoy gory autopsies and a detailed look into the mind of a sociopath should go elsewhere. This is the village cozy at its very finest, and discerning readers will be happy indeed. Highly recommended.
--Claire E. White
---
Mystery Reviews
Page One |
Page Two
|
Page Three
|
Page Four
Click Here to Return to the Book Reviews Index
---
More from Writers Write
---