Mystery/Thriller Book Reviews
The Book of Fate by Brad Meltzer
Warner Books, September, 2006
Hardcover, 528 pages
ISBN: 0446530999
Ordering information:
Amazon.com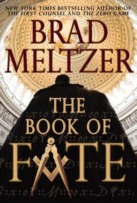 President Leland Manning is nearing the end of his first term, and is looking forward to a second. But a botched assassination attempt, in which the president appears to hold a woman in front of him as a shield (he was actually trying to get her out of harm's way), destroyed his reputation. During the attack, Manning's deputy chief of staff, Ron Boyle, is killed and his young aide Wes Holloway is left with major, disfiguring scars on his face. After losing the election, Manning moves on with his life as an ex-president and takes Holloway with him out of sympathy. While on a trip to Malaysia, Holloway sees the supposedly dead Boyle and immediately starts to investigate. What really happened eight years ago and why is Boyle alive with a new, nearly unrecognizable face? With the help of his friends -- a pit bull of an attorney and a Palm Beach gossip columnist -- Wes sets down a path that will lead to a vast conspiracy which involves the Masons and a mysterious two hundred year-old code.
Brad Meltzer is a meticulous researcher, and he credits his fascinating insights into the life of an ex-president to conversations with former President George H..W. Bush and with President Bill Clinton. It's not an easy thing to go from being the most powerful man in the world one day to a private citizen the next, and some presidents handle the transition better than others. This glimpse into the unique life of a former president, with its endless round of fundraisers and a much-reduced staff and entourage is absorbing. Add in a gripping fast-paced story, with conspiracies, mysterious codes and thought-provoking historical facts, and you have a very exciting, entertaining read.
--Claire E. White
---
Girl in a Box by Sujata Massey
HarperCollins, August, 2006
Hardcover, 304 pages
ISBN: 0060765143
Ordering information:
Amazon.com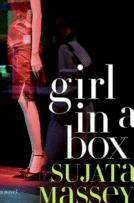 Rei Shimura's life has taken a very different turn since the beginning of her last adventure (
The Typhoon Lover
). She now freelances for an ultra-secret government agency, the Organization for Cultural Intelligence. Her first undercover assignment sends her to Tokyo to work in the exclusive Mitsutan department store. The U.S. government is concerned because of a tip from wealthy investment banker Warren Kravitz that Mitsutan's galloping earnings reports cover stock price manipulation. Rei doesn't understand how American interests are affected, but she doesn't complain: the job is a dream one for Rei: she gets an employee discount and an allowance from the agency to buy the clothes and shoes she'll need to look the part of a "girl in a box" -- a sheltered Japanese girl who still depends on her parents. Rei gets assigned to the "K" Team because of her fluency in English (it is her native language, after all, not that her new bosses know that) where she helps wealthy foreigners shop. Soon, Rei is planting listening devices, crashing a business conference and snooping in computer records. But her inexperience at the spy game could get her killed. After all, the last agent that was sent in to spy on Mitsutan ended up dead.
When the Rei Shimura series began, Rei was a Japanese-American antiques expert who loved to shop and explore Japanese culture when she wasn't navigating the twisted byways of her complicated love life. Now she's grown up a bit and is putting her diverse knowledge to work as a spy for the U.S. government. Sujata Massey has turned this already-great series on its head and made it into something exciting, unique and very entertaining. A smart and lively heroine, wonderful local color and sly sociological insights make this series hotter than ever.
---
Messenger of Truth by Jacqueline Winspear
Henry Holt, September, 2006
Hardcover, 336 pages
ISBN: 0805078983
Ordering information:
Amazon.com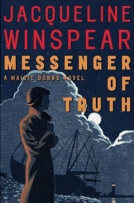 British private investigator Maisie Dobbs returns in her fourth adventure set in 1930s Britain. Maisie's friend, Georgiana Bassington-Hope, asks Maisie to look into the death of her twin brother, Nicholas Bassington-Hope. Nick was a veteran of World War I, as are most of Maisie's and Georgiana's friends. He later became a successful and controversial artist. One day he was found dead, apparently from a nasty fall from a scaffold at a Mayfair gallery. Nick was about to reveal his newest work at a show, but his untimely death prevented that. Georgiana is convinced he was murdered, but Maisie is not so sure.
She investigates Georgiana's and Nick's rather bizarre family and becomes increasingly disenchanted with the extravagant lifestyles of the wealthy as the rest of Britain struggles to make ends meet. Meanwhile, political unrest is bubbling up in Britain, foreshadowing the upcoming events of World War II. Jacqueline Winspear does an outstanding job of recreating the atmosphere and details of early 1930s Britain and the undercurrents of despair of the "lost generation" who returned from World War I damaged in mind, body and spirit. Maisie herself faces personal tragedy, but soldiers on with her job with pluck and perseverance in this intriguing mystery.
---
Return to Book Reviews Index
---
More from Writers Write
---