Mystery/Thriller Book Reviews
Page One of Two
Singularity by Bill DeSmedt
Per Aspera, November, 2004
Hardcover, 502 pages
ISBN: 0974573442
Ordering information:
Amazon.com
In 1908, a mysterious event occurred in Siberia which leveled 60 million trees in the forests of the Stony Tunguska Basin. The explosion was so loud and so bright that people one thousand miles away could read a newspaper at night without candlelight. To date, no one has conclusively solved the mystery of what happened at Tunguska that day. Theories of the cause of the blast include a comet, an asteroid, aliens, and a submicroscopic black hole. The leading theory (an asteroid impact) seems unlikely, because there is no impact crater at Tunguska. Debut author Bill DeSmedt takes this puzzling event and uses it as the basis of an exhilarating SF thriller that will resonate with readers of Michael Crichton, Greg Bear and Dan Brown.
American astrophysicist Jack Adler has new evidence that proves the 1973 Jackson-Ryan hypothesis, that it was a submicroscopic black hole smaller than an atom and heavier than a mountain which caused the Tunguska Event. Dr. Adler manages to wangle his way onto a Russian expedition to the Tunguska Basin where his instruments confirm his worst suspicions: that the black hole never exited the Earth and is still in orbit inside the Earth's mantle. If the black hole's orbit starts to decay, it will spiral towards the center of the earth, eventually devouring all the matter on our planet.
On the other side of the planet, consultant Jon Knox has been strong-armed into helping government agent Marianna Bonaventure investigate the disappearance of one of many Russian scientists whose skills at creating weapons of mass destruction are in high demand by terrorists. Marianna is a brilliant analyst, but this is only her second assignment in the field. Marianna and Jon inveigle their way on board the mega yacht of Russian billionaire Arkady Grishin. Grishin is hiring Russian scientists with unusual specialties and is suspected by the U.S. government of conducting WMD research. He also seems to be interested in the Tunguska Event. But what Arkady Grishin is up to goes far beyond the worst suspicions of the feds. It will be up to the team of a rookie agent, a cynical analyst, a computer expert and an astrophysicist to stop Grishin's obsessions from destroying the planet.
Technothrillers are notoriously difficult to write -- first, the author needs a "big idea." Then, he's got to find a way to turn that idea into a great story with characters you want to spend time with. Bill DeSmedt scores big on all counts in his debut novel which reads like it was written by an old pro. DeSmedt delivers a lightning-paced plot, with fascinating scientific issues, likeable characters and crisp prose that speeds the story along to its shocking, and somehow very satisfying conclusion.
--Claire E. White
---
Double Shot by Diane Mott Davidson
William Morrow, November, 2004
Hardcover, 310 pages
ISBN: 0060527293
Ordering information:
Amazon.com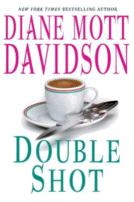 The Jerk is Dead! Hallelujah! The fans of Diane Mott Davidson's bestselling culinary mystery series have suffered for years along with heroine Goldy Schulz, as she matched wits with her abusive ex-husband, Dr. John Richard Korman (better known as "the Jerk.") It really was pure genius when Ms. Davidson finally decided to kill him off and -- of course -- Goldy is the prime suspect. Mercifully, Ms. Davidson has given Goldy a fabulous second husband; he's supportive, kind and looks great in his sheriff's outfit. Now, with the help of her hubby and irrepressible and very wealthy best friend Marla (another ex-wife of The Jerk) Goldy sets out to find the killer and clear her name.
It is a joke that Davidson fans will relish; the Jerk causes Goldy just as much trouble dead as he did when he is alive. But still, little Goldy Bear never gives up. When most women would have been packed off to the sanitarium or loaded up on Prozac and Xanax, Goldy just ambles into the kitchen to whip up something fabulous to eat. Goldy is a heroine that readers can relate to. She's insecure, impulsive and yet resiliant and brave. And she puts real cream in her espresso. With vivid characters, a villain to love to hate, a tricky mystery plot and delicious recipes to boot, what's not to love?
--Claire E. White
---
Mystery Book Reviews
Page One |
Page Two
---
More from Writers Write