Mystery/Thriller Book Reviews
Page Two of Three
To Catch a Cat by Marion Babson
St. Martin's Press, Nov., 2000
Hardcover, 190 pages.
ISBN: 0312209185.
Ordering information:
Amazon.com.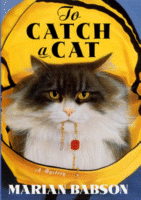 Being an 11 year old is never easy, but for Robin things seem especially tough. His mother and her new husband have decided to extend their honeymoon, so Robin must stay with his young Aunt Mags, whose boyfriend finds Robin a severe annoyance. Always the outsider, Robin agrees to steal Mrs. Nordling's prize-winning cat, Leif Eriksson, in order to prove his worth to a school gang which he wishes to join. Robin manages to nab the cat, but to his immense horror, witnesses Mr. Nordling leaving the master bedroom covered in blood, presumably just after murdering his wife. Robin escapes, but the chase is on. Mr. Nordling is determined to find the intruder, and Robin must conceal the now-orphaned cat at all costs. Wary of adults, Robin faces his ordeal alone -- can he avoid being the next victim of a ruthless killer?
The prolific Marion Babson does it again with this offbeat and gripping tale of a young boy's ordeal and a murderer who is determined to catch the only witness to his crime. Babson skillfully captures the mindset of an alienated 11 year old, and that of a most despicable killer, as well. As with all of Babson's books, there is an almost indefinable, offbeat tone to the story which is quite compelling.
---
Road Kill by Marianne McDonald
St. Martin's Press, September 2000.
Hardcover, 256 pages.
ISBN: 0312242344.
Ordering information:
Amazon.com.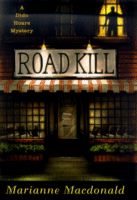 Dido Hoare, antiquarian book dealer and sometime amateur sleuth, gets a frantic call in the middle of the night from her nanny and friend, Phyllis Digby. Dido rushes over to Phyllis' flat, where she finds Phyllis locked in a closet. Apparently, some burglars showed up, ransacked the place, then locked Phyllis in a closet, thoughtfully providing her with a cell phone to call for help. The only thing the burglars stole is a computer hard drive that belongs to Phyllis' accountant and ex-convict Frank. Soon, Dido is in way over her head trying to untangle a mystery involving a lost husband, crooked cops and a famous burglary from the 1980s.
Road Kill
brings back the endearing characters of the irrepressible Dido, her infant son Ben, her on-again off-again policeman boyfriend Paul Grant and her witty and urbane father, Barnabas (who steals every scene he is in). Marianne McDonald has a narrative that flows smoothly, and Dido herself is an appealing heroine who manages to juggle single motherhood with her natural inquisitiveness that always seems to get her into trouble. The details about the antiquarian book business are quite interesting, although we get much less of them in this book than in
Smoke Screen
, her last book (which was also excellent). Lovers of the British cozy need look no further than the Dido Hoare series.
---
Mystery Reviews
Page One
|
Page Two
|
Page Three
Click Here to Return to the Book Reviews Index
---
More from Writers Write
---