My Wicked Fantasy by Karen Ranney Review
Avon, Feb., 1998.
Paperback, 384 pages.
ISBN: 0380795817.
Ordering information:
Amazon.com.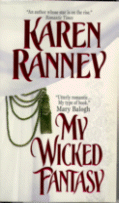 Until Mary Kate Bennett met Archer St. John, life had not been kind to her. Mary Kate was abandoned as a child on the side of the road, forced to survive on her own until she was old enough to marry. Married too young, widowed soon after, and left penniless with few belongings, she was determined to find the family she lost long ago.
While in pursuit of her family, a carriage accident brings Mary Kate into the care of the Earl of Sanderhurst, Archer St. John. His staff nurses her back to health, but lingering headaches and visions haunt her while whispering voices persist, trying to tell her something -- warning her to "Help Him". The Earl is desperate to find his wife, who has disappeared without a trace. Has she left him for another man or has she run away? As the two get deeper into her visions, they discover an attraction that neither of them wants but one they can't ignore.
If you like Romance Suspense books, this is the book for you. It keeps even the seasoned romance reader guessing. Ms. Ranney brings wonderfully complex characters with flaws and weaknesses together so that love can heal them both.
--Barbara Paschall Averitt
---
More from Writers Write