Murder While I Smile by Joan Smith Review
Fawcett Crest, Jan., 1998.
Paperback, 217 pages.
ISBN: 0449224945.
Ordering information:
Amazon.com.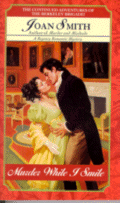 The Berkley Brigade, the adventuresome foursome who manage to combine sleuthing and romance with their social duties as the London ton's most popular young social set, is back in this lighthearted Regency tale. This time, a mysterious French comtesse appears on the scene selling possibly forged works of art and setting her cap at Lord Luten, much to the chagrin of Corinne de Coventry, Luten's fiancé. Lord Luten decides to get closer to the possibly spurious comtesse in order to discover whether she is selling fake paintings to his friends, or worse, becoming involved in English politics and influencing Parliament as to which firm should get a lucrative arms contract which could affect the war effort in France. Unfortunately, he decides not to inform his fiancé of his plans which infuriates her, to say the least. When the comtesse's painter who is responsible for the forgeries turns up dead -- found by Corinne -- the race is on to find out just what the comtesse's game is: espionage, romantic intrigue or both? A charming and lighthearted romantic tale for those who like the spice of a little intrigue with their romance.
---
More from Writers Write