Mrs. Pollifax, Innocent Tourist by Dorothy Gilman Review
Fawcett Columbine, 1997.
203 pp. ISBN: 0449911373
Hardcover.
Ordering information:
Amazon.com.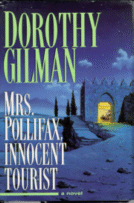 The lovable 60-something spy Emily Pollifax is back in another adventure sure to please Pollifax fans. This time Emily is on loan from the CIA to her old friend John Sebastian Farrell, who she once spent a week with in an Algerian prison. Their mission: to smuggle out of Jordan the final manuscript of the dissident Iraqi novelist Dib Assen, who was reportedly murdered in an Iraqi prison. Written as fiction, the novel describes the shocking realities of Saddam Hussein's reign of terror. Disguised as an innocent tourist companion to her "cousin" Farrell, the duo is set to meet their contact called Ibrahim near Amman to deliver the manuscript. No sooner are they in the air heading for Jordan when odd things begin to occur. Emily's seatmate is not the pleasant Arab businessman he pretends to be, the little carved plaque he stashes in her handbag is no innocent souvenir, and the drop does not go according to plan. Soon Emily and Farrell are plunged headlong into international turmoil as everyone tries to gain possession of the mysterious plaque and the missing manuscript. Emily and Farrell are forced to head into the desert in order to shake off a deadly pursuit and to try to locate the missing manuscript.
The 13th entry into the Mrs. Pollifax series is full of local color and customs and reunites the intrepid part-time spy with one of the best characters in the series: John Sebastian Farrell, ex-CIA agent and sometime art dealer in Mexico city. Pollifax and Farrell have made a fascinating mismatched team since they first teamed up in the first novel in the series. Pollifax is plucky and down to earth as usual while retaining her sense of wonder at the fascinating places and people in the world. A lighthearted outing sure to please Gilman fans.
---
More from Writers Write