Mountain Bride by Susan Sawyer Review
Avon Historical Romance, Oct., 1997.
Paperback, 343 pages.
ISBN: 0380784793.
Ordering information:
Amazon.com.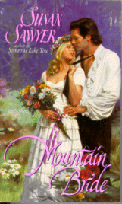 Lord John Winslow, the second son of the Duke of Havenshire, led a pampered existence -- until his father the Duke determined that a trip to the new "Second Sons" colony of Rugby, Tennessee was just what his profligate son needed to toughen him up and teach him to earn a living. After all, his elder brother Alexander would inherit the title as well as the family estate and wealth under England's primogeniture laws. Told that the colony would resemble an English village in a beautiful landscape, Lord Winslow agrees to the journey with the idea that he will make his fortune in a few months then return to his life in England consisting of lawn tennis, horseback riding, gambling and womanizing. When he arrives at the colony he is aghast to find a primitive town peopled with colorful, kind but unsophisticated and uneducated mountain folk including Coralee Hayes, a beautiful widow who is not impressed with the Englishman's arrogant ways. As Winslow gets to know the townspeople and begins to work for a living for the first time in his heretofore luxurious existence, he finds a new perspective on life as well as a tempestuous relationship with the beautiful Coralee, who is determined not to fall for a spoiled aristocrat who will eventually leave Tennessee for his beloved England.
Susan Sawyer creates a fascinating and unusual hero in Lord Winslow who discovers his own strengths under his pampered exterior with the help of the uneducated but wise Coralee. The historically accurate details of the "Second Sons" colony and the tensions between Lord Winslow and Coralee combine to make an enthralling read. An entertaining and thoughtful romance.
---
More from Writers Write