Mosaic by Gayle Lynds Review
Pocket Books, December 1998.
Hardcover, 482 pages.
ISBN: 0671024051.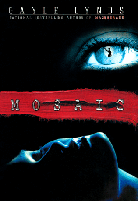 Concert pianist Julia Austrian has been blind since she was struck by a little-known psychological disorder ten years ago while onstage for a performance. She adjusted to her blindness and went on with her concert tours with her mother as her manager and close companion. While giving another performance at London's Royal Albert Hall, Julia regains her sight as suddenly as she lost it. But her happiness is short-lived; she sees her mother murdered before her very eyes during a robbery. Believing Julia to be blind, the assassin does not kill Julia. But the trauma of the event causes Julia's blindness to return. Unable to accurately identify the killer until her sight returns, Julia vows to regain her sight and track down her mother's killer. She returns home to America for the funeral to the palatial family home, where the rest of the extended family is busy with her uncle's bid for the American presidency. Once she returns home, however, she is plunged into a nightmare; someone is trying to kill her. She regains her sight through hypnosis, but she knows the change is not permanent and that she could lose her sight at any moment. She teams up with CIA analyst Sam Keeline (whose path crosses Julia's while he is searching for a long-lost treasure from World War II) and goes on the run to solve the puzzle, barely staying one step ahead of a merciless killer who will stop at nothing to keep her from finding out her family's darkest secrets and exposing a horrible miscarriage of justice.
Mosaic is a fast-paced, suspenseful thriller with enough plot twists and turns to satisfy even the most jaded reader. The subplot about the stolen Nazi treasure is intriguing and the action never stops. Another complex, exciting and very readable tale from the author of Masquerade.
Ordering information: Amazon.com.
---
More from Writers Write