A Midsummer Night's Faery Tale Review
A Midsummer Night's Faery Tale
by Wendy Froud & Terry Windling
Simon and Schuster, October 1999.
Hardcover, 48 pages
Reading Level: Ages 8 to Adult
ISBN: 0684855593.
Ordering information:
Amazon.com.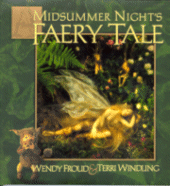 "This is a faery story. It doesn't begin 'once upon a time' or 'in a land far, far away'… it begins here in the world we know, in a forest called Old Oak Wood." So begins
A Midsummer Night's Faery Tale
, a marvelous new story from doll and puppetmaker Wendy Froud (best known for creating Yoda of Star Wars fame) and award-winning author and editor Terry Windling (best known for her collaboration with Ellen Datlow on the
Year's Best Horror and Fantasy
anthologies.) In the Old Oak Wood it will soon be Midsummer Night and all the faeries are busy with preparations for the event which honors the King and Queen of the faeries, Oberon and Titania. A small, young faery only two hundred years old named Sneezle is longing to take part in the celebration, but he keeps getting in the way. Sneezle feels like he can't do
anything
right, and is quite discouraged. But when someone puts an evil sleeping spell on Queen Titania and plots to steal her crown, Sneezle is the unlikely hero chosen to journey into the dark of the woods to find the Midsummer crown in time for the celebration that evening. On his quest, Sneezle finds some unlikely allies, a magical sword and a traitor who must be stopped.
Terri Windling takes a fairly standard fantasy storyline, the inexperienced youth setting off on a quest which could make him a hero, and turns it on its head in this charming fantasy fable. Wendy Froud's creations -- faeries, piskies, trolls, sylphs and the like -- are beautiful and imaginative, as are the photographs by Brian Froud; doll collectors will be in heaven. Children will no doubt find Sneezle adorable, and adults will find the story entertaining and the illustrations enchanting. An unusual and captivating book which would make a perfect Christmas gift for faery lovers of any age.
---
More from Writers Write
---